| | | |
| --- | --- | --- |
| | | |
General Preston Douglas
Seaman First Class
USS Helena CL-50
The following email received on 13 November 2007.

Dear Dave,

I regret to inform you of the passing of Regina Douglas Collins, General Preston Douglas' sister.
Funeral services were held today in Hancock County, TN.

It is sad that she did not live to get to see him come home.

If you are interested in reading the obituary, you can find it in the Morristown Citizens Tribune
(Morristown, TN), obituary section, yesterday's listing (11-12-07). Or, if you don't find it and have
a fax, I'd be glad to fax a copy to you.

Billy
The following information received via an email on 5 January 2008.

Preston Douglas is to be buried Jan. 26 in Sneedville, TN
about 50 miles west of Kingsport near the Kentucky border.

Information received via an email from shipmate Charlie McClelland of the USS Helena CL-50,
on 28 January 2008.

Permission to post the following pictures provided by




Knoxville, TN
| | |
| --- | --- |
| | |
On 28 September 2007, Entry #172 was logged into our USS Helena Guest Book.
It reads as follows:

Entry #: 172

Date: 2007-09-28 06:51:29

Name: Billy Smith

Comments:

RE: PRESTON DOUGLAS

I KNOW YOU WILL BE INTERESTED IN HEARING ABOUT PRESTON DOUGLAS,
A SERVICEMAN FROM WORLD WAR II. PRESTON DOUGLAS WAS SERVING
ON THE USS HELENA WHEN SHE WAS SUNK AT THE BATTLE OF THE
KULA GULF IN 1943. APPARENTLY HIS BODY WASHED ASHORE ON ONE
OF THE ISLANDS AND WAS BURIED THERE. PRESTON'S BODY WAS FOUND
JUST A SHORT TIME AGO BY A PERSON DIGGING IN A GARDEN ON ONE OF
THE ISLANDS. HE WAS IDENTIFIED THROUGH HIS DOG TAGS, AND THE
MILITARY BEGAN A SEARCH FOR HIS FAMILY.

RECENTLY DNA WAS TAKEN FROM HIS SISTER WHO LIVES IN HANCOCK
COUNTY, TENNESSEE. PRESTON SHOULD BE HOME SOON FOR BURIAL
IN HIS HOMETOWN LOCATED IN CAMPBELL COUNTY, TENNESSEE.

Billy Smith. smith@bellsouth.net

Thank You!
As Manager of the USS Helena Web page and our Guest Book, it is my job
to provide information and verify, if possible, same.

David J. Brouchoud
dave.brouchoud@gmail.com

I contacted Mr Billy Smith to inquire how he received the information about
Preston Douglas's remains. Here is his reply:

Hello Mr. Brouchard,

The way the story came to me in early Spring, the Navy contacted the Postmaster
in Jellico (Campbell County), Tennessee, trying to find a next of kin of Mr. Douglas.

The Postmaster, a friend of mine, called me and thought Mr. Douglas' sister,
Regina Douglas, had lived in Claiborne County, Tennessee, but did not know
if she was still living, if she was married, etc. The Postmaster thought I might know
of the family, since I had been a State Trooper and Sheriff for many years in
Claiborne County and naturally came in contact with a lot of people.

But I could not locate her, so we took the search to Hancock County, Tennessee,
which joins Claiborne County. My wife works for the power company that serves
the area and contacted some of her co-workers to help locate Ms. Douglas.

Hancock County is one of Tennessee's smallest counties, so within a few hours
her co-workers had called her back stating that Ms Douglas did indeed live in
Hancock County and several of the employees knew the Douglas family.

The co-worker contacted Ms. Douglas' daughter, who told him that yes, her mothe
r had two brothers who served during WWII, and that Preston never came home.
She said her mother had talked about him many, many times over the years and
of course never knew what had happened to him.

Apparently Ms. Douglas is now in a fragile state of mind (possibly has Alzheimer's?),
and lives near her daughter who looks after her. The daughter said she would tell her
mother about her brother and said if her mother were having a good day, she would
understand. The daughter gave us home, work and cell phone numbers where she
could be reached, and we in turn gave those to the Postmaster in Jellico, who then
made contact again with the Navy.

The Navy told the family that Mr. Douglas would be home by the end of this summer.
I wanted to wait until he was home before posting this; however, that did not happen,
so I went ahead and posted it on the Helena message board. I tried just sending it to
your e-mail address, but it would not take it. No, I did not serve on the Helena or know
anyone who did.

Yes, you may use my e-mail address.

Billy Smith
The next information came from Shipmate Charlie McClelland who served on the
USS Helena CL-50 and reads as follows:

"American Remains Found on Ranonga Island"

In 2006, locals discovered the remains of an American buried on the island, with
his dog tag. The remains belong to Seaman 1st Class, General Preston Douglas,
2960771 from Newcomb TN. He was a crew member of the USS Helena sunk July
1943 in the Kula Gulf. He had been buried with dog tag on him in a shallow grave
about 200 yards from the beach. The locals have no stories about him. It is a mystery
as to how he got there, died and who buried him. In mid-September 2006, a team
from JPAC recovered his remains. Thanks to John Innes for this informaton.

You can access the page where Charlie found the above information by clicking HERE.

You can also access the USS Helena CL-50 Final Muster Report, dated August 1, 1943.
Load the page and scroll down to the list of Missing in Action. Click HERE.

I fully agree with Mr. Smiths words.

Hello Mr. Brouchoud,

Yes, it certainly will be alright to use my words, no credit necessary. I am just glad he
was found and gets to come home.

Billy Smith

Map found and provided by Charlie McClelland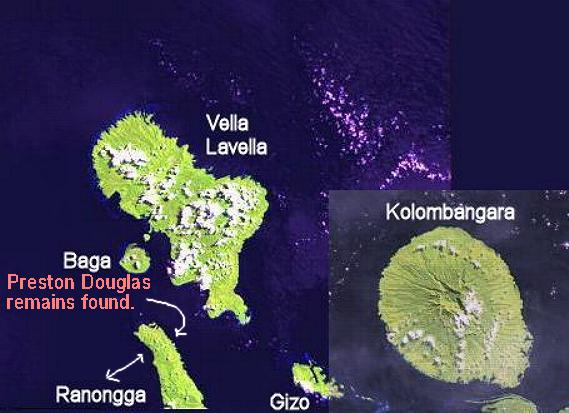 To view an enlarged map of the Solomon Islands, click HERE.