Questions for our members.
---
Posted 4 September 2010.
My father John Robert Whalen, called Bob, was a survivor of the USS Helena during WWII.
He was from Chicago and came home on leave from the navy to marry Virginia Touhy.
It was an engagement by proxy, he sent the ring to his mother and she proposed for him.
She wasn't supposed to give it to her until she heard he was safe but my grandmother, Genevieve Whalen didn't wait.
He also was a survivor of another ship that sank.
He passed away at age 44 leaving 10 children behind.
Does anyone remember him? I believe he worked the radio.

Mary Fuentes
Legal Secretary
Lewis Brisbois Bisgaard & Smith LLP
550 W. Madison Suite 300
Chicago, IL 60661
(312) 345-1718

email
MFuentes@bbslaw.com
---
Posted 21 December 2008.

It has come to our attention that the "OR" Division and individual Radioman pictures are not in the 1961 USS Helena CA-75 Cruise Book.
Was the OR Division part of the Flag Allowance?
Is it possible that the OR Division was accidently omitted from the 1961 Cruise Book??

Will someone please advise.

Thank You.
Dave Brouchoud, web page manager.
---
Posted 13 December 2008.

I am a plank owner from the USS Helena, SSN725 and I am hoping someone in our organization could confirm a story.

About a year ago a friend of mine gave me what looks to be a one foot segment of deck.
There are no markings stamped in it to tell from which ship it came from.
He said gotten it from his dad when his dad passed away.
His dad was on the USS Utah, AG-16 on that fateful day, December 7, 1941.
Luke's dad survived that day and went on to serve throughout the War.

Is there anyone in the organization who was on the USS Helena, CL50 when she was attacked on that day in Pearl?

Were survivors of the attack and the War, given a piece of deck from the USS Missouri years after the War had ended?

Thank you very much for your time and the news letters.

Very Best Regards,

Rob Cumberland

EM1(ss) USS Helena, 1987-1990.

r.cumberland@comcast.net
---
Posted 22 October 2008.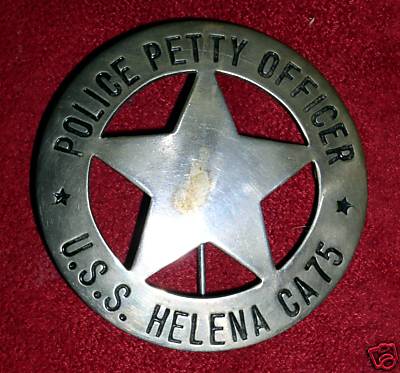 Does anyone have information about this badge? Was it ever worn by the 75's Master at Arms?
The metal badge is 2 1/4 inches across.

Does anyone have a picture of the Master at Arms badges worn by our ship's police department badge?
If so, please send the image to dave.brouchoud@gmail.com
---
Posted 12 January 2008.

Looking for anyone who may remember CL-50 Shipmates Luke Ernest "Chuck" O'Connor or Earl Kenneth Snow. Relatives would like to hear from you.
Please contact Deb
debmckay@bellsouth.net
---
Posted 26 November 2007.

Hi,
My name is Alexis Lee Rivera and I'm 12 years old. I'm asking about my great uncle Guy Joseph Lee Rivera who served on the USS Helena and the USS Toledo. He served in the Korean War from 1951-1953 and then had to leave for injury reasons. No one in my family knows about my uncle when he was in the service. I would greatly appreciate any information you might have about him.

Thank you,
Alexis
---
Posted 26 October 2007.

Dear Mr. Dave Brouchoud,

I am writing you today (October 22, 2007), because I have just come across the web site it is amazing to say the least. My grandfather Frank Cellozzi was aboard the USS Helena CL-50 and is in some of the pictures that are on this site. Some of which I have seen before due to my Grandfather making sure that he shared is stories with all of his grandchildren and after his passing in 1999 my Grandmother Francis Cellozzi has always kept his stories going. I am not sure if you can help me with this but I would love to see more pictures and hear more stories of my Grandfather from the days aboard the USS Helena, as I mentioned my Grandmother has many, but I am wondering if there are more floating around out there that I nor my Grandmother have never seen or heard. I really hope to hear from you soon. Also please feel free to pass this along to anyone whom also may have known my Grandfather.

Respectfully,

Frank K. Cellozzi
5867 Abbey Church Rd.
Dublin, Ohio 43017
---
Posted 26 October 2007.

Yes, under
Public Law 106-65.

J. G. Saltalamacchia
---
Posted 10 October 2007.

Did USS HELENA (CA-75) qualify for a combat action ribbon (CAR) for service in Korea?
Michael Robertson.
mrobi22877@aol.com
---
Posted 10 September 2007.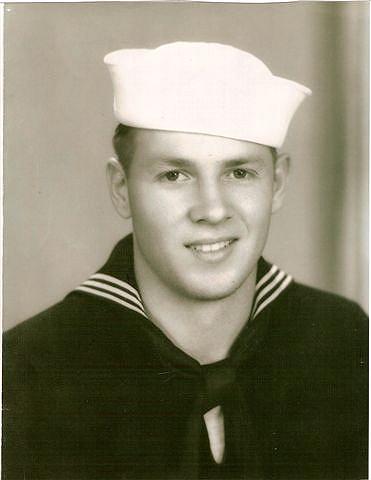 Interested in any information about a relative of mine C. A. THOMPSON who served on the USS HELENA approximate years 1949 - 1952.
If you have information, please email me. I would surely appreciate it. C. A. died this year on March 11, 2007.
GLORIA SHEPPARD. My email address is
wsorchard@mscomm.com
---
Posted 17 August 2007.

Looking for anyone who may have know my uncle John K. Campbell.

My mother (his sister) knew he was aboard the USS Helena CL-50 during WWII. He was from Lowell, MA.

Mother told me that he contracted some kind of tropical disease and spent time in a hospital, but I don't know where.

As far as I know, he enlisted at the beginning of the war either right out of high school, or he may have left school to enlist, so he would have been between 17 and 20 when he was aboard.

Pat Siler

email silerpugs@yahoo.com
---
Posted 23 July 2007.

Rick would like to know if any one remembers his uncle.

James J. Ryan served on the USS Helena CL-50 when Pearl Harbor was attacked. He and Maurice Kleckner were trapped in the boiler room and they were the two that got the ships power operational so that the Helena could fire. Shortly before the USS Helena was sunk, about 2 weeks before, he or Maurice was offered a chance to leave and go to advanced diesel mechanics school so he and Maurice decided to cut cards to see who would go and who would stay and my uncle won and went to the school. Maurice was aboard when the Helena when she was sunk.
My uncle and Maurice contined to keep in contact with each other and called each other every December 7th right up to when my Uncle pasted away. I got a really great photo of the Helena that he had hanging above his recliner.

(Ed note: to see this picture click HERE.)

He told me so many storied of his time on the ship from Pearl to other battle's.

You can write to Rick at his home address:
13520 391st Avenue
Aberdeen, SD 57401.
---
Posted 18 July 2007.

Does anyone remember my father who was on the USS Helena CA-75 between 1944-45 and possible longer.
His name was Frank Haskins Williams from Martha's Vineyard Island, Massachusetts.
Or maybe you could tell me sites to look up ship mates.
Thanks for your time and I hope to hear back from you.

My email is Scallop53@aol.com

His Son Gary
---
Posted 26 April 2007.

Thomas J. Hudner Jr., a member, is trying to contact STRATOS FILOU CA75, 1946-47

(Filou is not in our Muster).
---
Posted 20 April 2007.

Update from your Editor. BM1 Robert H. Stallard was in the 3rd Division during the USS Helena CA-75 1959-1960 Cruise.

Subject: CPO Robert H. Stallard Deceased

My dad, Robert H. Stallard, served aboard the helena in the late 1950s, starting in Long Beach and then in Bremington ( do not recall if same ship)

He passed away on his final cruise, prior to retirement, aboard the U.S.S. Eaton DD510 out of Norfolk.

Dad did not expect to die at 39 so he never wanted to pose for photos.
I am 67, Disable Vet and trying to secure photos so that my kid and their kids will know what he looked like as I tell stories of what a great person he was.

If anyone in your group would remember my dad, either BM1, or Chief Bos'un and has any old photos, I will glad pay for copies or will accept email copies

Thanks or you time.

Robert E. Stallard
465 Springfield Drive
Bristol, TN. 37620

My email bob465@chartertn.net

423-878-6633
---
Posted 14 April 2007.

Hi, my step-father served on the CL-50 from 1939 to Kula Gulf. His name is Frank Ziskowski, "Ski" and lives in Windsor, CT. He was a GM1 and was gun captain on the port side 5" battery. At 93 he is still going strong and mentions the Helena quite often. He has also met and became friends with former Captain Hoovers daughter who also lives in CT. They both decry the screwing Capt. Hoover got from Halsey during the Juneau's sinking.

Best regards

Ken Lappe, Leesburg, FL
---
Posted 14 April 2007.

Hello,

My wife's father has the large 6' tapestry of the USS Helena on his basement wall. We have the smaller silk tapestry that says "USS Helena, Swan of the Yangtze", which I read was made for the crew members around 1913.

Do you know where I could get a crew roster(s) from around that time? It would mean a lot to put some provenance with the picture. The sailors name was Scholz.

Thanks and have a very Merry Christmas!

My email is: wkunish@sbcglobal.net

Warren Kunish
Dallas, Tx
---
Posted 12 April 2007.

Hello.

My step dad served on the Helena. His name was Lyle Clark, better know as Bud. Bud had a great sense of humor, a great work ethic and a good story teller. My mom thinks of him every day. He served in the mid 50's to mid 70's. Bud was 6' tall 185-190 lbs. If any one knows of any stories involving "Bud", please feel free to contact me bobbystunt1@yahoo.com. .

Thanks to all.

Lyle Clark
---
Posted 6 April 2007.

Your web page author needs a picture of the 1968 USS Helena Reunion, held in Colorado Springs, Colorado.
email me! dave.brouchoud@gmail.com
---
Posted 18 March 2007.

Does anyone have pictures of the "Change of Command Ceremony" for 1st Fleet in 1962.
I was in the Marine Honor Guard. We stood Honor's for 44 Admirals that morning, including Adm. Nimintz.
George Martin

My e-mail address: georgemartin@cox.net

Thank you.
---
Posted 5 March 2007.

Rhonda L Apicella (nee Owens)

I wanted to post this to the "questions" section. My Dad Robert L. Owens served aboard the USS Helena CA-75 in the late fifties ('57-'59). Bob was in the Supply unit, I believe, perhaps Ships' store. Please feel free to e-mail me if you knew him or recall serving with him aboard the Helena. I still have his cruise book and it is one of my prized possessions. My Dad died five years ago, and it is the only thing of his I felt I had to have.

Please drop me a line if you knew my Dad Robert L. (Bob) Owens who served aboard the Helena in '57-'59.

My e-mail address: Rhonda@epicomm.net

Thank you. Rhonda
---
Posted 3 March 2007.

Hello all,

My father (Audie Calvert, Sr.) served on the CA-75 in 1945-46 and was aboard for her original shake down cruise as a signalman. My father is 81 yrs old now and we still talk about his days aboard the Helena a lot. I have a lot of photos of his from that time, on and off the ship. Sure would like to hear from anyone who may have known him, or known someone he sailed with.

My email address: acalvert@neb.rr.com

Love the web site,
Regards,
Audie Calvert Jr.
---
Posted 29 January 2007. Corrected posting 30 January 2007.

Neva J. Hibdon-Ruiz

My father Billy Ray Hibdon served aboard the USS Helena CA-75 in the late 40's, into the early 50's He was the ships whistle sounder, I still have his whistle. He has told us stories about the attacks on the USS Helena CL-50 on 7 December 1941. During the attacks, there was a huge hole left in the ship. He also told us about the attacks on the Helena CA-75 during the Korean War. If he had been in his bunk during one attack, well I wouldn't be here writing about it. He has told us many stories about other attacks. He is very proud to have served aboard the USS Helena and for the US Navy. He is currently 78 yrs old in a nursing home. Before his last stroke, he could tell any one stories about serving aboard the USS Helena. He still wears his USS Helena cap w/ all of his metals of honor. This is a great web sight to learn more about the ship & the shipmates that served with my father so proudly. I would love to hear from any one who may have known my father. Thanks for serving & protecting our country!!! God Bless!!!!!!!!!

Neva J. Hibdon-Ruiz : balloonatic@earthlink.net
---
Posted 29 January 2007.

Barry Schultz

Hello everyone,

My father served on this ship (USS Helena CL-50) around the period of the attack on Pearl Harbor, December '41. He passed away from a brain tumor in 1968 while we were living in Norfolk Virginia. His name was C.W. "Dutch" Schultz, Jr. - he was a seaman at the time. I was only 14 when he died and would like to hear from anyone who knew him from being a shipmate. He eventually retired a Lieutenant after a 20 year stint. My mom told me he was on shore during the attack doing something regarding communications and was trying to get back to the ship when the attack began. I have a copy of a letter he sent back to his mom (my grandmother) after the attack and it's really something to hear of his account. Thanks for the chance to reach out. God Bless!

My email address is bschultz2@cfl.rr.com
---
Posted 29 January 2007.

My father, James Baxter Carruth was on the USS Helena. He passed away 10 years ago in a private plane crash.

Just wondering if anyone out there knew him.

Thanks, Suzy C Thomas

My email is sthomas418@aol.com
---
Posted 21 January 2007.

General P. Douglas's brother also served on the Helena CL-50 from the best we can gather. His name was Walter Garfield Douglas.
He survived the sinking ordeal and later died in 1971 in a VA hospital. Maybe someone remembers these brothers from Newcomb, Tennessee..............

Posted 14 January 2007.

Mr. Robert L. Kern,

My name is Mark J. Tidwell. I am director of the library in a little town located in Tennessee called Jellico.

One of Jellico's residents never made it home from his service aboard the great CL-50. His name is General P. Douglas and he is listed on our town's Veterans Memorial. His remains were never returned home. There could possibly be some closure on this issue in the future. Would anyone in the organization remember, been pals with, or shed some light on this local seaman's history aboard the Helena? Just a thought...............

My late father, James Tidwell Jr., was a SFC aboard DD-729, USS Swenson, during WWII and afterwards until 1948. My late grandfather, James Tidwell Sr., was a "Seabee" and was helping to build the "Trans-Isthmusian Highway" parallelling the Panama Canal when the Japanese bombed Pearl Harbor.

Thanks for any info, I know six decades have passed since this event, but possibly someone might recall something.........

My email address is: jellico2@birch.net
---
Posted 28 December 2006.

Loren Lewis

My dad is Leo LaVerl Lewis, He served as a barber and was a loader for the 10" guns in battle. He was also a heavyweight boxer during the korean war. I hear he was the champion of the pacific fleet. He can still tell me some great stories, but all the pictures but 1 of him boxing that he sent home came up missing before he got home from the war. I would really like to get my hands on some more of his boxing photos. If anyone can tell me where to find some of them it would mean a lot to me and the whole family.

My e mail address is l.lewis1222@sbcglobal.net
---
Posted 27 December 2006.

Sean Windberg

My Great Uncle, Fred Joplin was lost in the sinking of the Helena. Anyone who reads this and recalls him, please respond.
---
Posted 27 December 2006.

Carol Horner-Iacona

My Dad (Charles Horner) was on the USS Helena CL-50 at Pearl Harbor in 1941. Still alive at 86 years, currently in a nursing home but remembers Dec 7th as if it were yesterday and his heart is still with the Helena! Anyone out there knowing him, feel free to e-mail me with a message and I will see that he gets it. We are both in the San Antonio, TX, area now.

My email address is cmi51@aol.com
---
Posted 9 December 2006

Daniel Lewis

I just found out that 2 of my uncles served aboard the "Helena". Is there any way that anybody can tell me something about them?? I never knew my fathers side of the family..my name is Daniel Lewis..so I hope their last name would be Lewis also. Any info you can give me would be greatly appreciated..

My email is cebecka@yahoo.com
---
Posted 7 December 2006

My girlfriend's father served aboard the Helena from '52 to '54. I am attempting to learn of his service and to create a shadowbox as a gift to her. His name is Robert D'Anniballe.

He was an SK3. I am not sure of his division. He was from Steubenville Ohio. I believe he is a lifetime member of the Helena Association and attended a few reunions. If you served with, or know of Mr D'Anniballe, or can help me with any of this information, please contact me at wilfly65@hotmail.com. Any assistance is appreciated.

HMC (FMF) Brian Conlon
---
Posted 27 November 2006.

R. Hayes Comments: My uncle, S1C Warren J. Forsythe, was assigned and served on the USS Helena CL-50 after Pearl Harbour and until she was torpedoed and sank in July 1943. He passed in 1988 without anyone really knowing about his WWII Naval service. I have obtained most of his records and researched the USS Helena's history during this period. I am searching for any information regarding if he was a survivor of the floating debris or may have reached the shores of Vella Lavella. Is there a listing of those who reached Vella Lavella? He (then COX) and many other USS Helena crew were reassigned to the USS Houston CL-81, which was also torpedoed, in Sept 1944. Where were the crew after the USS Helena sinking (7-43) and coming aboard the USS Houston (1-44??)? Same question for USS Houston after being torpedoed if available. I would greatly appreciate hearing from any crew member of these vessels and times whether he knew my uncle or not. Thank all of you for your service. Respectfully R. Hayes, Vietnam veteran, Texas.
email me at: hayesrr1@yahoo.com
---
Posted 6 November 2006.

Looking for one of these caps. I will buy it.
Dave Brouchoud
dave.brouchoud@gmail.com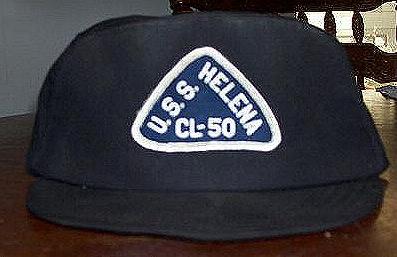 ---
Posted 17 October 2006.

William T. Mifflin, V.

My Uncle Donald Ramon Mifflin served during WWII and the ship was sunk, his rate was MM-I. Does anyone remember him? He died in 1975.
He later married a WAVE Edith Abbott. She is now deceased. I can not find any information on him.
Thanks, Bill Mifflin 10-17-06. Salem, NJ 08079
email: mifflinagency@mindspring.com
---
Posted 12 October 2006.

Guestbook Entry: Date: 2006-10-11 20:58:37

Name: J. Dixon
Email: patootiedoll@yahoo.com

Comments:

My Uncle Elic Crowley Jr. was lost at sea during th USS Helena CL-50's final battle of Kula Gulf in 1943.
If anyone remembers anything about him at all, I'd would really appreciate your sharing it with me.

Thanks everyone for all you have done!ssqs
---
Posted 12 October 2006.

Dear Bob,

I am interested if a Cruise Book was ever made covering Jun (or Jan.) '45 to July '46 of the World Cruise of the Helena CA75.

If there is a copy I could get and make a copy, I would appreciate it.

Thanks,
Edward A. Brooks S1/c (RdM) K
---
Posted 29 September 2006.

My father William L. Jackson III RMC USN RET served aboard CA75 during the Korean conflict.

She was one of his favorite memories of his 20 plus years in the navy.

Sadly, he passed away in Dec 81.

If anyone remembers Bill Jackson from back in the "day" please feel free to email me.

AMH1 C. L. Jackson USN RET.

Email: budmanjackson@aol com
---
E. Edwards

My name is Eric and my grandpa was on the USS Helena, but I'm not sure what number...

Do any of you old sailors remember him? His name was Howard Hassell, and he served mid-to-late 40s.

Thanks.
email address: ehe2002@juno.com
---
My great uncle was killed on July 6, 1943 at Kula Gulf on the USS Helena,

His name was Francis Leroy Junkins, he was 19 years old.

I was wondering if any of the survivors knew him on board the ship.
He was a Seaman First Class. He was listed at missing in action or lost at sea.

He was from Waterloo, Iowa. Thanks!

Matt Gill
217-942-3974
email address: matt.gill@excite.com
---
Hi Dave,

I got your name from Tony Gomez, who I had emailed with a question about my dad's past service on the Helena CA75. He passed away 12 years ago, but I just recently requested his service records from the govt. Since I am very involved in military support by sending care packages to soldiers and sailors, and I realized I didn't know anything about when or where my dad served in the Navy.

His records indicate that the USS Helena CA75 was one of the ships he served on between late 1945 and late 1948. My question is...is there any way to find out WHEN he was actually on the Helena? It is the first ship listed after his training camp, but I wasn't sure if that meant it was the first ship he was on.

I would also like to get some of the Helena patches, but I understand they are out of stock in the Ship Store. Do you have any idea when they might be back in stock? I'd like to surprise my 4 siblings with one of them as a momento.

I'd appreciate any help you could give me in regard to this. His info, in case you need it -

Richard John Eisenhauer DOB 12/5/1927
Radarman
Thank you so much!
Mary Jo Stamper, Lakeland, FL
E-mail address: mstamper@tampabay.rr.com
---
My great uncle, Paul J. Goldmann, served on the Helena. He was wounded when she was attacked at Pearl Harbor, and was killed when she sank at the Battle of Kula Gulf. Recently, however, I visited the WWII memorial in Washington DC and searched a database of those killed in WWII. I found my great uncle, but his date of death was listed as sometime in 1945.

I hadn't really thought about my uncle in quite a while, but this discrepancy made me realize how little I know, and that time is running out to learn anything.

And so I wonder if it is possible to contact any veterans of the ship, who, if they were not familiar with my uncle, perhaps could tell me something of life on the Helena?

Thank you
Erik Apland
E-mail Address: erjapland@yahoo.com

To see Paul J. Goldmann's WWII Memorial, click HERE.
---