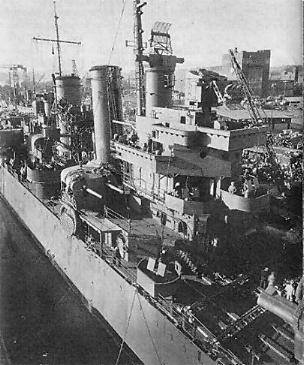 View of the starboard side amidships, taken
at the Mare Island Navy Yard, California,
27 June 1942, following repair of combat
damage and an overhaul. Note the ship's
redesigned forward superstructure,
including an open bridge and reduced
lower bridge wings. Mark 34 main battery
gun director, with antenna for an FC gunfire
control radar, is immediately in front of the
foremast. The other director, just behind the
open bridge, is a Mark 33, with antenna for
an FD radar mounted on its front. Weight
traversing gear on the main deck, between
the forward superstructure and 6"/47 gun
turret # 3, indicates that Helena is
undergoing an inclining experiment to
determine her stability.
Photograph from the Bureau of Ships
Collection in the U.S. National Archives
#19-N-31213.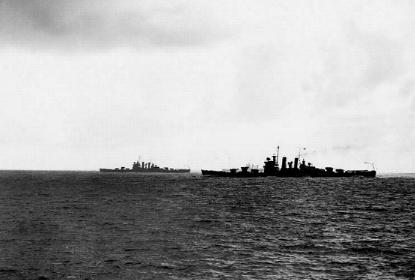 Central Solomons Campaign, 1943
Light cruisers maneuvering off Espiritu Santo, New Hebrides,
during exercises on 20 June 1943, ten days before the invasion
of New Georgia. Ships are USS Saint Louis (CL-49) , at left;
USS Helena (CL-50), at right; and USS Honolulu (CL-48)
in the center distance. Official U.S. Navy Photograph,
now in the collections of the National Archives #80-G-57074.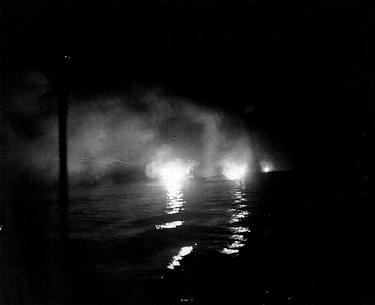 Battle of Kula Gulf, 5-6 July 1943
USS Helena (CL-50), in the center, firing during the
Battle of Kula Gulf, just before she was
torpedoed and sunk.
The next ship astern is USS Saint Louis (CL-49).
Photographed from USS Honolulu (CL-48) .
Official U.S. Navy Photograph,
now in the collections of the
National Archives #80-G-54553