(Posted on 3 July 2015)

Permission to post these two eBay images, granted by the seller.
" Nikki" of dixie_auctions
Please visit their eBay store. Hundreds of WWII photos.
Click HERE!

( A few days after receiving this permission, I bid on the items and won the auction)
---


"OFFICIAL U. S. NAVY PHOTOGRAPH"
The picture below is of Rear Admiral Oliver M. Reed
Released on 24 October 1943



US Navy
Rear Admiral
From 29 March 1942 - 25 September 1942, Captain Reed
was the Commanding Officer of the USS Helena CL-50
---
(Reverse side of the above photo).

The narrative below is reproduced, making it easer to read. Please scroll down.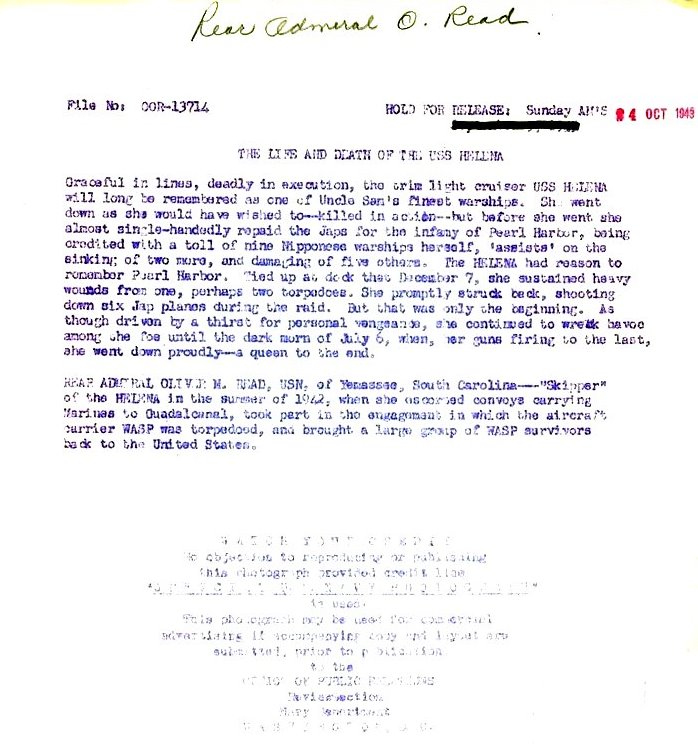 Rear Admiral O. Reed

File No: CDR-13714 Hold for release: Sunday AM 24 Oct 1943

THE LIFE AND DEATH OF THE USS HELENA

Graceful in lines, deadly in execution, the grim light cruiser USS Helena
will long be remembered as one of Uncle Sam's finest warships. She went
down as she would have wished to---killed in action---but before she went she
almost single-handedly repaid the Japs for the infamy of Pearl Harbor, being
credited with a toll of nine Nipponese warships herself, 'assists' on the sinking
of two more, and damaging of five others. Tied up at dock that December 7, she
sustained heavy wounds from one, perhaps two torpedoes. She promptly struck,
back, shooting down six Jap planes during the raid. But that was only the begining.
As though driven by thirst for vengeance, she continued to wreck havoc among
the foe, until the dark morn of July 6, when, her guns firing to the last, she went
down proudly----a queen to the end.

Rear Admiral Reed, USN, of Yemassee, South Carolina--"skipper"
of the Helena in the summer of 1942, when she escorted convoys carrying
Marines to Guadacanal, took part in the engagement in which the aircraft
carrier WAP was torpedoed, and brought a large group of WASP survivors
back to the United States.
---
WATCH YOUR CREDIT
No objection to reproducing or publishing this photograph provided credit line
"OFFICIAL U. S. NAVY PHOTOGRAPH"
is used.

This photograph may be used for commercial
advertising if accompaying copy and layout are
submitted, prior to publication,
to the
OFFICE OF PUBLIC RELATIONS
ReviewSection
Navy Department
WASHINGTON, D. C.