USS Helena CL-50 Memories
Page 2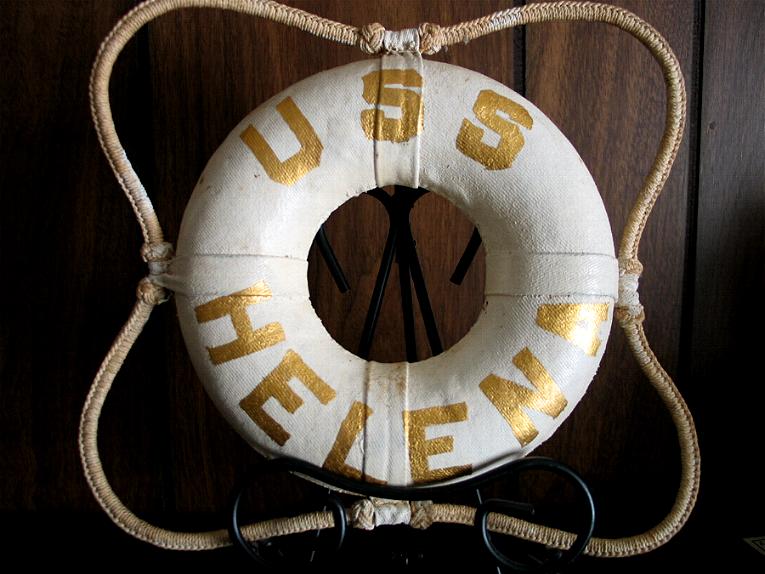 Miniature Life ring found on eBay. It measures 8" by 8" and is about 1 1/2" thick.
Reported to have been used as a table decoration for special occasions on the USS Helena CL-50.
---
Memories provided by Charles McClelland
WW II War Ration Books issued to Miss Agnes Brinkman in Detroit. Now wife of Charles McClelland USS Helena CL 50.
Some of the items rationed during WW II were Sugar, Butter, Coffee and Meats. Also Shoes, Gasoline, Fuel Oil and Tires.
| | |
| --- | --- |
| Ration Card front | Ration Card back |

In addition to the menu on your right, this menu booklet contains
8 pages of names of the December 1940 U.S. Helena CL-50 crew.
(The booklet measures 7" wide by 5 3/8" high.)

Christmas Day Menu
25 December 1940

OYSTER COCKTAIL


HEARTS OF CELERY     SWEET MIXED PICKLES     GREEN OLIVES

PEA SOUP         SALTINE WAFERS

ROAST YOUNG TURKEY

APPLE AND CELERY DRESSING  GIBLET GRAVY  CRANBERRY SAUCE

BAKED SPICED HAM

MASHED POTATOES          CANDIED YAMS

BUTTERED ASPARAGUS TIPS

LETTUCE AND TOMATO SALAD         RUSSIAN DRESSING

FRUIT CAKE     NEAPOLITAN ICE CREAM     ASSORTED FRESH FRUITS

HARD CANDIES      ASSORTED NUTS      LEMONADE

CIGARS AND CIGARETTES

          H. J. BONNE

Chief Commissary Steward

U.S. Navy
---
The menu that follows was found on eBay and is now the property of the USS Helena Organization.
Posted on 19 November 2009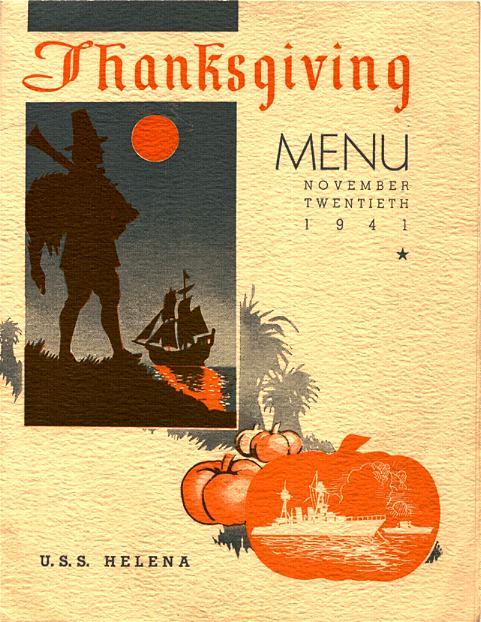 When closed, this menu measures 5 3/8 inches wide by 7 inches high.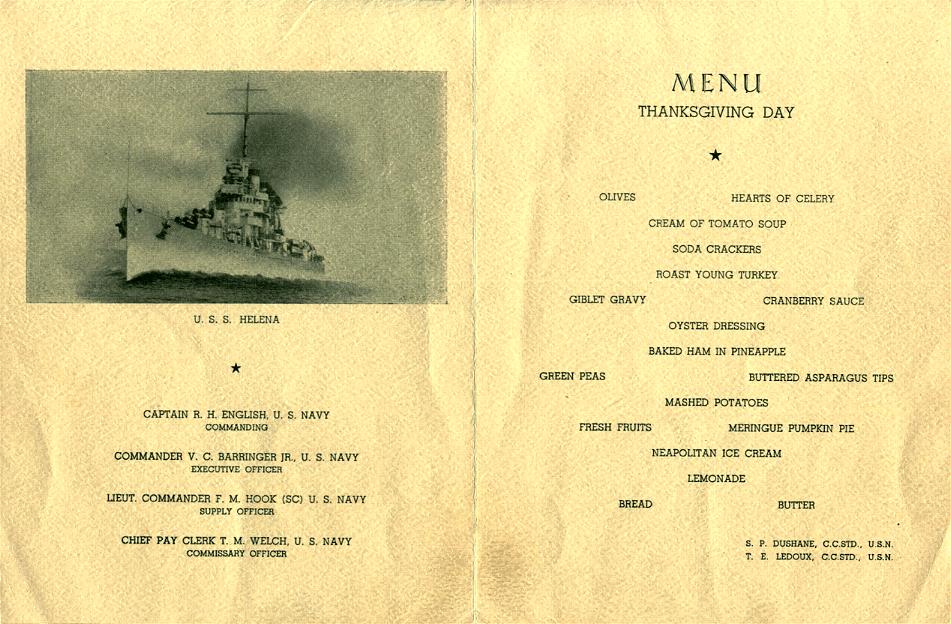 When opened, this menu measures 10 3/4 inches wide by 7 inches high.
---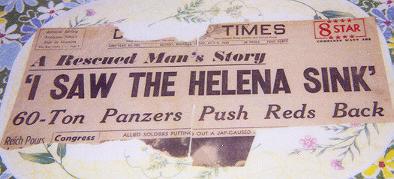 The Headlines of the Detroit Times as it appeared in the Detroit, Michigan Newspaper. Friday July 9, 1943.
I believe it was written by Lt. C. G. Morris, USNR, Radio Officer on the USS Helena.
The story was published before any next of kin were notified.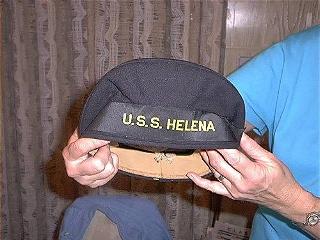 Thanks to Charles W. McClelland USS Helena CL-50
"F" division, S1c, 1941 - 1943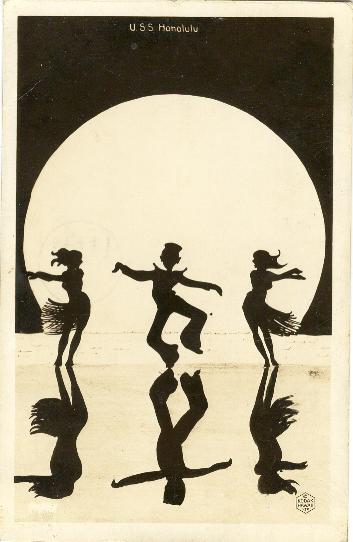 This post card, mailed from Honolulu, Hawaii post marked March 9, 1941, was sent to Mr. & Mrs. C. R. McClelland at 7200 Iowa, Detroit, Mich. from Jim & Bill McClelland.
It reads " Hello! Everything out here is O.K. We're getting along fine. Some post card. Jim & Bill". This is just after Bill joined Jim on the USS Helena and they made liberty together.
Thanks to Charles W. McClelland USS Helena CL-50
"F" division, S1c, 1941 - 1943