USS Helena CL-50
Navy Unit Citation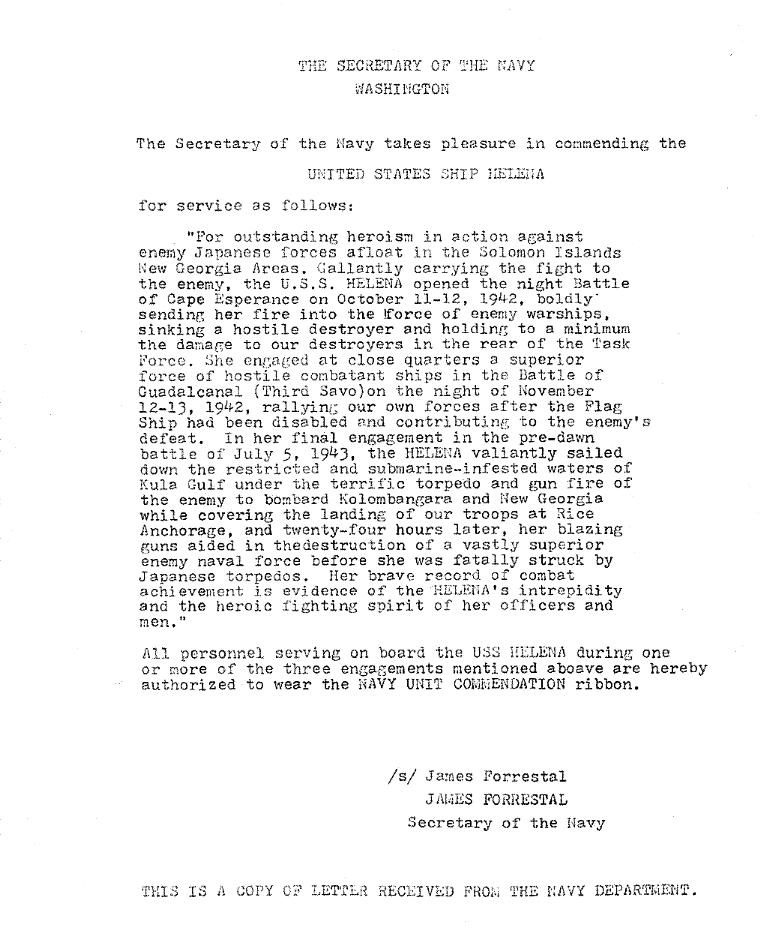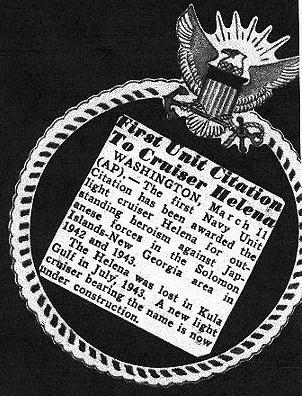 Image furnished by EUGENE E. LAJEUNESSE MM1C
USS Helena CL-50 1941 to 7/43.
---
(For clarity, the above Navy Unit Citation is reproduced here)
"For outstanding heroism in action against enemy Japanese forces afloat
in the Solomon Islands-New Georgia Areas.

Gallantly carrying the fight to the enemy, the USS Helena opened the night battle of Cape Esperance
on October 11-12, 1942, boldly sending her fire into the force of enemy warships, sinking a hostile
destroyer, and holding to a minimum the damage to our destroyers in the rear of the Task Force.

She engaged at close quarters a superior force of hostile
combatant ships in the Battle of Guadalcanal (Third Savo) on the night of
November 12-13, 1942, rallying our own forces after the flag-ship had been
disabled and contributing to the enemy's defeat.

In her final engagement in the pre-dawn battle of July 5, 1943, the Helena valiantly
sailed down the restricted and submarine-infested waters of Kula Gulf under
the terrific torpedo, and gun fire of the enemy to bombard Kolombangara and
New Georgia while covering the landing of our troops on Rice Anchorage, and
twenty four hours later, her guns blazing aided in the destruction of a
vastly superior enemy naval force before she was fatally struck by Japanese torpedoes.

Her brave record of combat achievement is evidence of the Helena's
intrepidity, and the heroic fighting spirit of her officers and men."

All personnel serving on board the USS HELENA during one or more of the
three engagements mentioned above are hereby authorized to wear the
NAVY UNIT COMMENDATION ribbon.