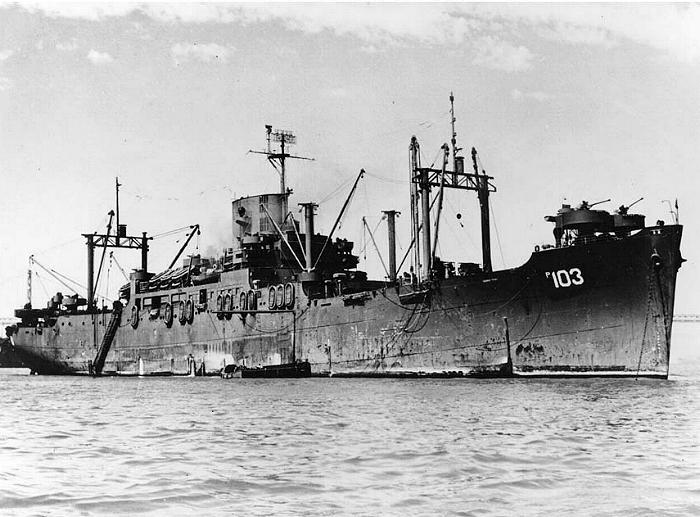 USS President Polk (AP-103) Awards

USS President Polk (AP-103) was a President Jackson-class attack transport in the service of
the United States Navy during World War II. President Polk was laid down by the Newport News
Shipbuilding and Drydock Company of Newport News, Virginia (MC hull 110) 7 October 1940; launched
28 June 1941; sponsored by Miss Patricia Kennedy. The ship was delivered to American President Lines
(APL) in 1941 when she began operating as of 5 December as SS President Polk, a transport under
government charter in the Pacific reinforcing Pacific bases, until 6 September 1943 when the ship
was requisitioned and acquired by the Navy for conversion to a troop ship. The ship commissioned
as USS President Polk (AP-103) at San Diego 4 October 1943, Commander Clarence J. Ballreich
in command. After the war she was returned to APL for commercial operations.
War Shipping Administration transport. Shortly after delivery in 1941 the SS President Polk
began operating under government charter to supply and reinforce Pacific bases. The ship was
then acquired by the War Shipping Administration (WSA) on 5 December 1941 with American
President Lines operating the ship as WSA's agent. In a particularly critical delivery the ship was
diverted from a planned shipment to Hawaii and departed San Francisco on 19 December 1941
along with a tanker and two freighters with arrival in Brisbane, Australia on 12 January 1942.
Thereshe delivered 55 P-40E and 4 C-53 aircraft including 55 pilots, 20 million .30 caliber, 447,000
.50 caliber, 30,000 three-inch AA and 5,000 75 mm rounds of ammunition along with five carloads of
torpedoes, over 615,000 pounds of rations and 178 officers and men in addition to the pilots.[6] From
Brisbane Polk, making a stop at Townsville, sailed to Soerabaja arriving on 30 January with
ammunition, bombs, airplanes, and rations for forces in Java. Of eight vessels planned for relief of Java,
and indirectly the Philippines, only Polk and the chartered Dutch vessel Bloemfontein, one of the
convoy vessels, arrived before that island fell on 9 March. Polk transported elements of the 7th Naval
Construction Battalion composed of 7 officers and 433 enlisted men departing American Samoa
6 August 1942 arriving Espiritu Santo, New Hebrides on 11 August. The other element, 15 officers and
465 enlisted men, were embarked aboard Wharton.
United States Navy. After acquisition 6 September 1943 and conversion by the Navy the ship was
assigned to the Naval Transportation Service. USS President Polk loaded construction battalion
men and cargo at Port Hueneme, California and sailed 12 October 1943 for Pearl Harbor.
---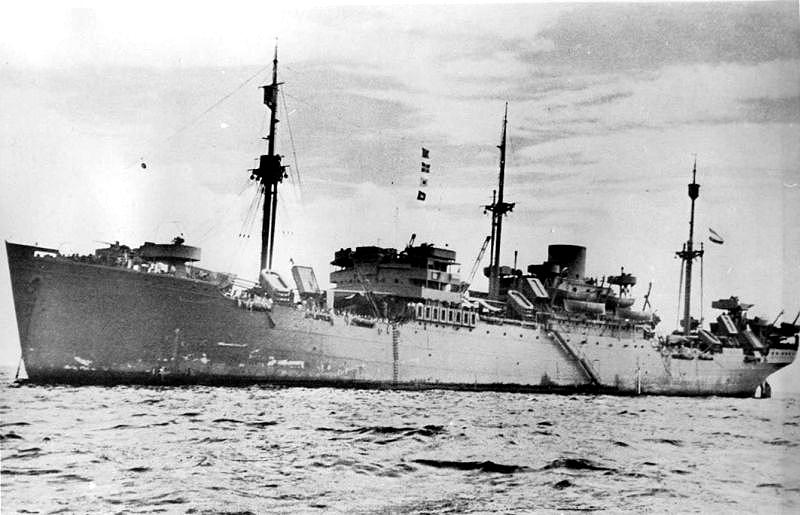 MS Tabinta ( a Dutch Vessel)

MS Tabinta 19 August 1930 to 1 December 1960 PHWE.
Construction order: 04-04-1929 NV Nederlandsche Scheepsbouw Maatschappij, Amsterdam.
Building Number: 202.
Invitation: f.3.932.371, -
Dimensions: 465.0 '(141.71) x 62.0' (18.90) x 36.3 '(11.05).
Measurement: 8.156 (b); 4898 (n0; 10336 (D); 510.545cft (bs); 602.840cft (gs); 3:34 (DT).
Machines: Werkspoor-Sulzer, Amsterdam 2tew8 cylinder diesel engine..
Verm./Snelh .: 7,040 epk; 1 screw, 15kb
Bunkers: 1.507 DO / 26
Type: Cargo ship with passenger accommodation, HDK, 2 x TDK, 3rd TDK in I and VI (front deck), 6 hatchbacks.
Accommodation: 21 passengers, 1.050 (M), 53/68 ), accommodation for pilgrims. In 1946: 17 passengers, 60? (B).
Equipment: 6EK (3)
Kiellegging: May 1, 1929.
Tewaterlating: 21 March 1930.
Trial: 18 August 1930
Delivery: 19 August 1930.
Would first be called MS Tambelan. Eventually it was named after Tabinta or Tobintha
on the West Coast of Celebes in the Indian Archipelago.The ship was a design of Ir HNPrins.
In 1933 equipped with more depth tank capacity. On December 21, 1934, MS Tabinta
entered the port of La Caruna with a burning charge where the fire was dumped by submerging
it underground. The ship arrived in Amsterdam on December 27th. In May 1940 on the Java
New York Line deployed for transportation for the British war industry. In 1941 a 4-inch
cannon was installed. On 1 October 1942, a refurbishment was completed to freight and
troop transport (approximately 2,200 man / cargo 291,500 cft) for the UA WSA. First
trip from San Francisco to Brisbane, Townsville and Cairns. Wracked up 325,000 nautical
miles in the Pacific in the war years. Released in San Francisco on January 9, 1946 and
in February 1946 to Indonesia. First arrival in The Netherlands on 14 April 1946 with
repatriates . After that, chartered the Dutch Government for 3 years as a freight carrier.
Centralized back in the middle of 1950. In December 1960, sold to Hong Kong to Fourseas
Enterprising Co. to be demolished there in May.
The fifteen Dutch troop transport vessels in US service came from five different shipping companies:
Holland America Line (HAL):
ms Noordam
ms Sloterdijk
ms Sommelsdijk
Java China Japan Line:
Ms Tjisadane
Rotterdamsche Lloyd:
ms Brastagi
ms Japara
ms Kota Agoeng
ms Kota Baroe
ms Kota Inten
ms Weltevreden
Steamvaart Maatschappij Nederland (SMN):
ms Poelau Laut ms Tabinta
United Dutch Shipping Society (VNSM):
ms Bloemfontein
ms Boschfontein
ms Klipfontein

----------------------------------------------------------------------------------------
At the end of 1941, the Tabinta of the SMN (Steamvaart Maatschappij Nederland) was
transformed in San Francisco into a troop transport ship.

The Allies made use of 202 troop transport ships during World War II.
In most cases, these were customized passenger ships or passenger ships.
The conversion of a passenger ship into a troop ship consisted of removing unnecessary luxury items such as
furniture, ornaments and decorations, and rescue lifeboats, wooden cages and hammocks aboard, so that the
transport capacity of soldiers became as much as possible. Furthermore, armament was placed on board in the
form of single guns and anti-aircraft guns. The bridges, steering houses, compass and map rooms were reinforced
with steel plates and concrete. Finally, the ships were painted in navy gray, black or camouflage colors.

The ships ranged from the Royal Mail Ship (RMS) Queen Elizabeth of the Cunard Line from 83,673 tons to 1,188 tons
of Perak from the Straits Steamship Company. A heavy toll occured with these troop transport ships and no less
than 56 were lost by war trades. The size of the sinked troop transport vessels ranged from the 42.348-tonne RMS
Empress of Britain of the Canadian Pacific Steamship Company, the largest sinked ship during World War II, to the
1,961-tonne Lafonia of Elder Dempster Ltd.

The Dutch troop transport vessels in US service were chartered by the US War Shipping Administration (WSA).
This service was established on February 7, 1942 under the umbrella of the War Powers Act 1941, the first US war laws.

The WSA was authorized to operate all ocean-going ships, except marine and other military vessels,
under US flag. Furthermore, the WSA ships could purchase, charter, rent and seize. In order to meet the demand for
sufficient troop transport ships, the WSA had to call on foreign shipping companies because there could not be enough
American passenger ships to be converted.

The WSA chartered fifteen Dutch passenger and passenger freighter ships converted to American yards at the end of
1941 or early 1942. Unlike Dutch troop transport ships in British service, no Dutch troop transport ship in American
service lost during the war. This was mainly because Dutch ships were deployed in US service in the Pacific, where,
unlike the Atlantic Ocean, there was almost no submarine threat. The Japanese had this offensive weapon less
developed than the Germans, and in addition, Japanese submarines were not used often against merchant ships.
At the end of 1945 and early 1946 the fifteen Dutch ships were released again.
---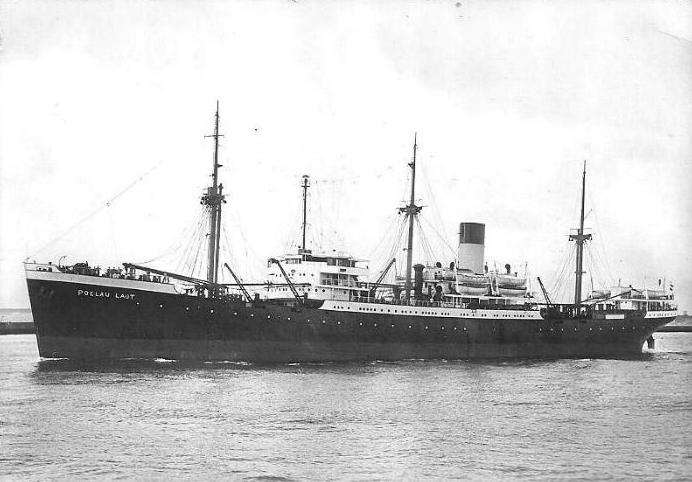 MS Poelau Laut ( a Dutch Vessel)

MS Poelau Laut PQJS / PGTS 27/28 December 1928- 19 June 1959.
Construction Order: 27th July 1927. NV Dutch Shipbuilding Myself., Amsterdam.
Building number: 189.
Invitation to tender: f. 4,194,612, -
Dimensions: 149,36 x 18,59 x 11,20 m.
Machines: Gebr.Sulzer AG, Winterthur. 2 tew 8Cil.diesel engine.
Verm./Snelh .: 7,040 epk. 1 screw. 14 kn.
Type: Cargo ship with passenger accommodation.
Kiellegging: September 1, 1927.
Stack of goods: July 27, 1928.
Delivery: 28 December 1928.


The ship was named after the island of Laoet in the Indian Archipelago, on the southeast of Borneo.
It was designed by Ir HNPrins. She left for her first trip to Dutch India on January 9, 1929 from
Hamburg and on January 18th from Amsterdam. The ship arrived in the Java Pacific Line in
1940 to be used initially for transportation for the British War industry. That is why a 4 inch
cannon was placed on board in 1941. Refurbished in September 1942 in San Francisco to a
cargo carrier and left for its first trip on October 20, 1942, for United States War Shipping
Administration (US WSA) to Townsville, Cairns and Brisbane. In January 1943 returned
to San Francisco for further adjustments. On January 28, 1943, departed to Espiritu Santo,
Noumea, Melborne and Brisbane. During WW II more than 300,000 sea miles were traveled,
mostly in the Pacific. The last trip for the US WSA began on 13 August 1945 via Pearl Harbor
to Eniwetok. In November 1945 again available to the Steamvaart Maatschappij Nederland,
but initially underwent prolonged engine repairs in Los Angeles, which only resumed the service
at Tandjoeng Priok until mid-October 1946. In 1948 returned to old state, with accommodation
for 54 passengers. In March 1959, she was sold to Hong Kong to Dah Chong Hong before the
demolition. Arrived there on 19 June 1959 after which the MS Poulau Laut was demolished.
---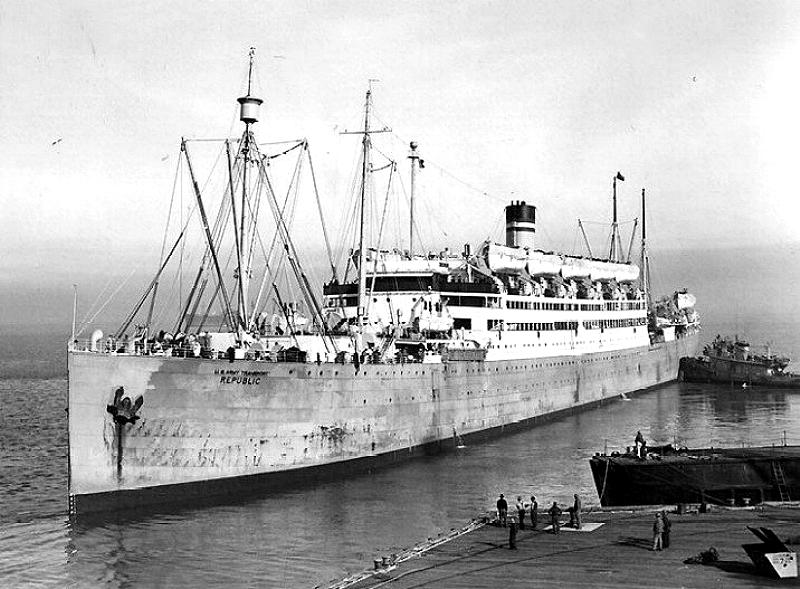 USS Republic (AP-33) Awards

USS Republic (AP-33) was a troop transport that served with the US Navy during World War II.
In World War I she served with the Navy as USS President Grant (ID-3014) before being turned
over to the Army and named Republic. The ship was renamed the President Buchanan in 1921
before reverting to Republic in 1924.
Originally christened as the SS Servian, she was built in 1903 by Harland and Wolff, Ltd. of
Belfast for the Wilson & Furness-Leyland Line, a subsidiary of International Mercantile Marine Co.
spearheaded by J.P. Morgan. After plans for a North Atlantic service collapsed, she spent four years at
anchor in the Musgrave Channel in Belfast.
After being purchased by the Hamburg-American Packet Steamship Company
(Hamburg-Amerikanische Packetfahrt-Aktien-Gesellschaft or HAPAG) in 1907, it was renamed the
SS President Grant, the third ship named for Ulysses S. Grant. In August 1914, after seven years
of trans-Atlantic passenger service, she took refuge at New York City when the outbreak of World War I
made the high seas unsafe for Allied merchant ships. She was interned at Hoboken, New Jersey and
remained inactive for nearly three years until the United States entered the war in April 1917. The ship
was seized when the United States officially declared war against Germany.
Turned over to the Navy, she was commissioned USS President Grant (SP-3014) on 2 August
1917, Comdr. J. P. Morton in command. During her operations as a troop transport, she made
sixteen round trips between New York and ports of France, carrying a total of 40,104 servicemen
on her eastbound passage, and a total of 37,025 servicemen on her westbound returns to New York.
President Grant was transferred to the Army 6 October 1919. During the period January to November
1920, she served as the United States Army Transport Republic and made two voyages repatriating
Czechoslovak troops from Vladivostok to Trieste. After a trip to France, she was delivered to the
United States Shipping Board (USSB) by the Army in March 1921. Until 1924, she lay at Norfolk,
Virginia and then was placed on North Atlantic passenger service with United States Lines.
At eleven in the morning of 7 December Commander Clark received a message indicating an attack on
Pearl Harbor that was first thought to be from an exercise until another message from Commander in Chief,
U.S. Asiatic Fleet removed all doubt. Republic and other ships in the convoy improvised wartime
measures by painting superstructures gray and searching cargo for weapons. In Republic's holds were
found four British made 75-mm artillery pieces that men of the 453d Ordnance (Aviation) Bombardment
Company, part of the 7th Heavy Bombardment Group, lashed to deck even though no ammunition was found.
The Republic had been in Stateside dry-dock just prior to the 2nd Battalion's boarding, and had four 3-inch
guns and one 5-inch gun (on the "fan-tail"). The Battalion manned these guns from 7 December until their
arrival in Brisbane Australia.
Between March and November 1942 she served on the San Francisco-Honolulu run, completing a total of
seven voyages. During 1943 and 1944, the Republic operated out of San Francisco, transporting troops
and supplies to Honolulu and the Southwest Pacific. She called at Fiji, Samoa, Nouméa, Guadalcanal,
Sydney, Funafuti, Hollandia and other ports.
Republic returned home in early 1945 and decommissioned at New Orleans 27 January 1945. She was struck
from the Navy Register 2 February 1945 and turned over to the Army for conversion to a hospital ship,
designated USAHS Republic.
---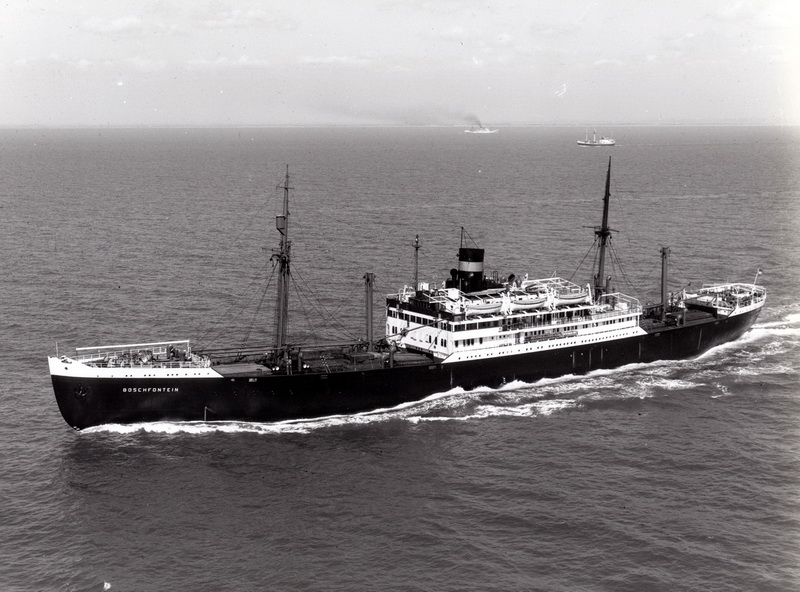 Ms Boschfontein

Construction site: Machinefabriek & Scheepswerf P. Smit Jr., Rotterdam
To be left to water: 1928
Delivered: October 15, 1928
Biggest Length: 125.24 meters
Largest Width: 18.13 meters
Water displacement: 7.139 tons
Machine installation: 2 x 10-cylinder Sulzer diesel engines
Machine power: 8,400 hp
Number of screws: 1
Maximum speed: 16 knots
Passenger capacity: 143 passengers
The Boschfontein motor boat was originally built as a single-hull ship Nieuwkerk commissioned by the VNSM.
The ship was equipped with a single Parsons steam turbine that had a capacity of 3,500 hp.
The passenger freighter had a maximum speed of 13 knots and a passenger accommodation for 51 1st Class and
26 3rd Class Passengers. In 1934, the Boschfontein was extended to the Royal Society De Schelde by the
introduction of a so-called Mayer bow. Furthermore, the ship was equipped with two Sulzer diesel engines
that were connected to the single propeller shaft. The passenger accommodation was extended to 143 passengers.
Finally, the ship was renamed in Boschfontein. The ship reached San Francisco shortly after the Japanese attack
on Pearl Harbor and was converted there as early
as 1942 into a troop transport ship commissioned by the WSA. The entire war was in the Pacific, and troops and war material
were transported to the US Army. On February 16, 1945, Boschfontein left for her last trip to the WSA from San Francisco.
During the long journey, Eniwotok, Saipan, Iwo Jima, Guam, Espiritu Santo, Nouméa, Hollandia, Leyte, Manila, Gualdalcanal,
Tulagi and Ulithi were all acquired during the Second World War in the Pacific. The trip ended in New York on September
16, 1945. During the entire war, Boschfontein (Captain A.Th.L. Dolmans) had transported more than 35,000 troops and made
213,000 nautical miles. The US charter expired on January 15, 1946. In 1956 the ship was converted into a cargo ship with
capacity for twelve passengers and in November of the same year as ms Bosch Church became operational.
In December of the same year, the Bosch Church for demolition was sold