USS Helena Reunion 1991
Nashville, TN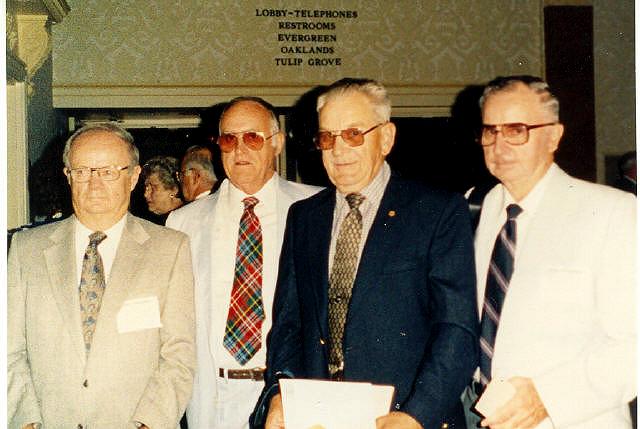 Left to Right
James "Little Mac" McClelland, unknown, the late Russell Yates and Charles "Big Mac" McClelland F Division, USS Helena CL 50.
"Unknown" may be Charles Horner, F Division, from Texas.
---
The following is a flyer which was attached to one of our Helena Newsletters.
IF YOU WANT A ROOM MATE AT THE REUNION PLEASE NOTIFY US AND WE WILL ADVISE.
If YOU KNOW OF SOME ONE ELSE WHO IS LOOKING FOR A ROOM MATE.
THIS IS NOT A NOTICE FOR A MATE, JUST A ROOM MATE OF THE SAME SEX.
---
PRESS

               

"THE DAILY WORD"
USS HELENA CA-75
TUES. 26 SEPT 1951

               

PRESS
COMMUNIQUE RELEASED BY CTG 95.2 ON 24 SEPT: ABOARD THE USS HELENA: TODAY THIS HEAVY CRUISER WAS CALLED "A HELL SHIP" X AND HER SKIPPER, CAPTAIN HAROLD "SWEDE" LARSON, SMILED WITH PRIDE X SO DID EVERY MAN-JACK OF HER CREW X THE TERM WAS GIVEN THIS 17000 TON SWEETHEART BY COMMUNISTS TROOPS WHO HAD FELT THE FURY AND THE FIRE OF HER GUNS WITHOUT LET-UP DURING RECENT WEEKS X COLONEL EMMERICH, SENIOR KMAG (KOREAN MILITARY ADVISORY GROUP) OFFICER WITH THE 3RD ROK DIVISION TOLD THE STORY IN REPORTING ON THE IMPORTANT ROLE THE HELENA HAS PLAYED IN BREAKING THE BACK OF THE COMMUNIST BATTLE LINE IN THE POHANG AREA X "THERE WERE TIMES," HE TOLD ADMIRAL HARTMAN "WHEN WE MIGHT HAVE BEEN WIPED OUT WITHOUT THE SUPPORT OF THE SHIPS IN YOUR TASK GROUP". X HE WENT ON TO SAY, "IN THE LAST 2 DAYS WE'VE MADE A 12 MILE ADVANCE AND CAPTURED A LOT OF COMMUNIST TROOPS INCLUDING THE COMMANDER OF THE 5TH NORTH KOREAN DIVISION X IN TALKING WITH THESE SOLDIERS WE'VE LEARNED HOW MUCH THEY FEAR THE DAY AND NIGHT BOMBARDMENT YOU'VE BEEN HANDING THEM WITH YOUR BIG GUNS" X YOU CAN TELL CAPTAIN LARSON HE WENT ON, "THAT THEY'VE GIVEN THE HELENA THE NAME OF THE HELL SHIP BECAUSE SHE POURS OUT SO MUCH FIRE AND DESTRUCTION X THEY REALLY FEAR HER" PROUD OF HER REPUTATION AMONG THE RED FORCES, THE HELENA TODAY SAILED INTO PORT FOR "BULLETS AND BEANS" BEFORE SHE STARTS ON ANOTHER MISSION OF DELIVERING HEADACHES TO THE ENEMY X BEFORE SHE WAS RELIEVED ON THE FIRING LINE EARLIER TODAY, THE HELENA'S GUN CREWS HAD BEEN BLASTING ENEMY POSITIONS FOR 77 HOURS OUT OUT OF 84 X IN LESS THAN 2 WEEKS SHE POURED 325,180 ROUNDS OF SHELLS AND SHRAPNEL ON COMMUNIST TARGETS X THERE'S GOOD REASON FOR THE REDS TO CALL HER "THE HELL SHIP" AND THERE'S GOOD REASON FOR CAPTAIN LARSON TO SMILE WHEN THEY DO.
---
WILL SOMEONE WHO WAS ON VELLA LA VELLA AFTER THE SINKING OF CL50 PLEASE CONTACT TED BLAHNIK AND TELL HIM HOW HE GOT FROM TULAGI TO NOUMEA AFTER THE DENT AND WATERS RESCUE.
---
WE ARE GREATLY PLEASED WITH THE LARGE NUMBER OF CA75 PEOPLE THAT HAVE COME ABOARD IN THE LAST COUPLE OF YEARS AND HOPE THAT YOU ALL ARE PLANNING ON BEING WITH US IN NASHVILLE.
YOU ARE MISSING OUT ON A LOT OF GOOD STORIES THAT HAVE GOTTEN BETTER WITH YEARS.
---
MAKE YOUR AIRLINE RESERVATIONS...MAKE YOUR WHEELS READY IF DRIVING.
SEND IN YOUR HOTEL RESERVATIONS....SEND IN YOUR REUNION RESERVATION ORDER FORM WITH CHECK.
GIVE YOUR BRIDE THE CREDIT CARD OR CASH AND TELL HER TO GET HER WARDROBE TOGETHER.

YOUR SHIPMATES:

BILL, MERLE & FRED.

WILL HAVE BULLETIN BOARDS FOR PICTURES ETC.

APPRECIATE MEMBERS DONATING DOOR PRIZES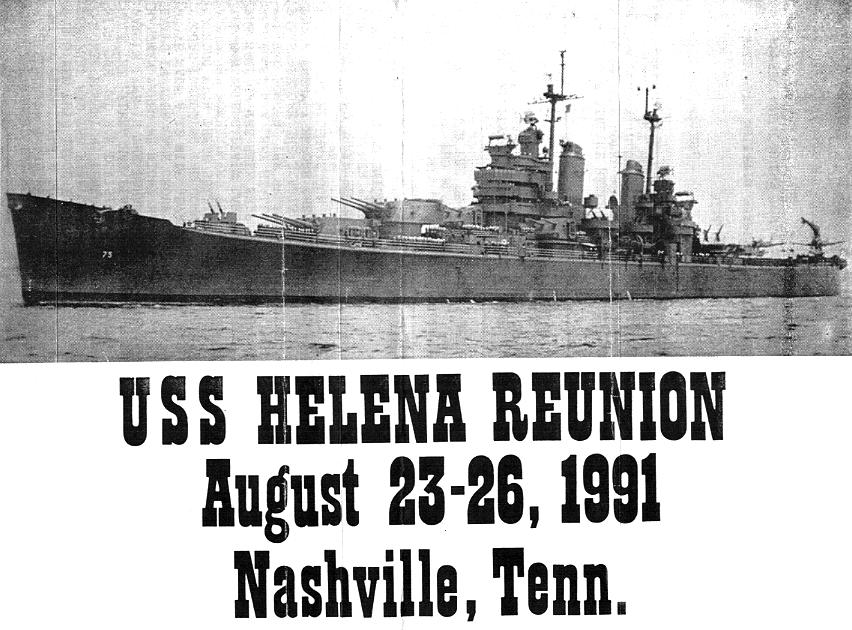 ---
The following pictures were taken at the 1991 Helena Reunion.
Nashville, TN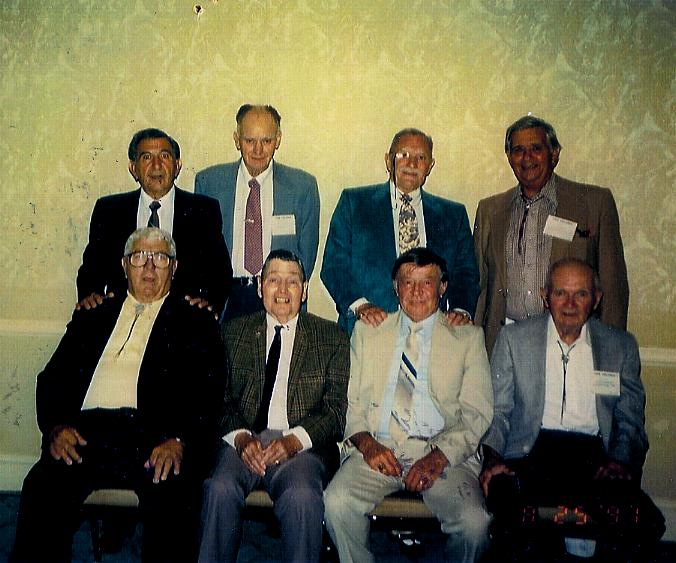 L to R top row
Dominico Dicarlo, Harold E. Hurd, Cleve Simpson, Joe W. Desch
L to R bottom row
Carlo Campitelli, Thomas, Merle Berndt, William Karmazon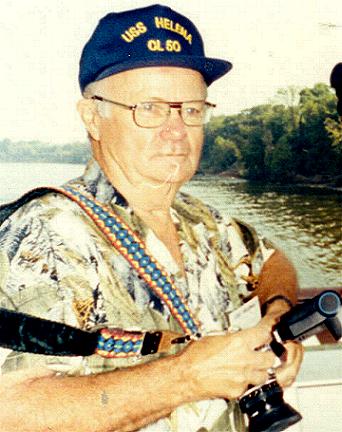 James "Little Mac" McClelland
at the Helena Reunion in Nashville, Tennessee.
On the morning of December 7th, 1941,
Jim McClelland ran through his ship, the Cruiser USS Helena,
as the Japanese attacked from above.
To view Jim's story, click Here.