U.S.S. HELENA (CA75)
PLAN OF THE DAY FOR MONDAY, 7 SEPTEMBER 1953
| | | | | | | |
| --- | --- | --- | --- | --- | --- | --- |
| DUTY DIVISON - 2 | | DUTY SECTION - 3 | | SUNRISE - 0518 | | SUNSET - 1800 |
GENERAL SITUATION
Underway today for Operations with Task Force.
UNIFORM
LEAVING PORT
Officers & CPO's - Service Dress Khaki

-with hats.

Crew -Undress Whites.

          

AT SEA
Khaki working uniform without
ties.
Dungaree trousers, chambray
shirts and white hats. Foul
weather clothing as necessary.

MOVIE
To be announced.
Carry out IN PORT and AT SEA routine amended as follows:
0600 - Reveille. Shift to uniform for leaving port.
0615 - Turn to. Scrub down weather decks. Clamp down superstructure decks.

- Sweep down compartments. Empty all trash.
0625 - Mess Gear
0730 - Muster on stations. Make preparations for getting underway.
0800 - Station the Special Sea Detail.
0815 - Officers call.
0820 - Quarters for getting underway and instruction. (See Note #2)
0830 - Underway to proceed Area "C" for ISE.
0845 - Flight quarters to recover helicopter.
0850 - Secure from quarters. Shift to uniform of the day.
0900 - Land helicopter. Turn to. Secure for sea. Wipe off exterior paintwork.

- Prepare for Executive Officer's Morning Inspection. Upkeep and maintenance work.
0930 - Executive Officer's Morning Inspection. Division Officers standby.
1000 - 1050 First Instruction Period. (See Note #3).
1100 - Man overboard drill.
1100 - Pipe sweepers.
1125 - Mess Gear.
1300 - Pipe sweepers. Continue ship's work.

- Flight Quarters to launch helicopter to rehearse guard mail transfer procedure. On completion helicopter land, refuel and take off to remain clear until

- completion of AA firing.
1350 - (as soon as helicopter clears) Make preparations to launch small drone for firing exercise. Set Condition I AA
1400 - Conduct 3" firing practice with drone target. Z-5-G, Z-6-G for 3" and 5"
1400 - 1450 Second Instruction Period. (See Note #3)
1500 - 1550 Third Instruction Period (See Note #3)
1500 - Procede to join TF 77.
1550 - Pipe Sweepers.
1710 - Mess Gear.
1830 - Movie in #5 Mess Hall.
1915 - Eight O'clock reports. Muster outside MAA office all men serving sentence involving "Withholding of Privileges." Movie in #4 Mess Hall.
2000 - Movie in Wardroom. Movie in #5 Mess Hall.
2130 - Catholic Rosary Service in the Crew's Lounge.

NOTES:

1. The following letter has been received and is quoted for information of all hands.
UNITED STATES PACIFIC FLEET
CRUISER-DESTROYER FORCE
% Fleet Post Office
San Francisco, California

       

FF4-5/FF4-9
P15

Serial 322
From: Commander Cruiser-Destroyer Force, U.S. Pacific Fleet

To: Commanding Officer, U. S. S. HELENA (CA75)


Subj: Report on completion of refresher training


Ref: (a) COMFLETRAGRU SDIEGO ltr P11-1(3) ser 0556 of 28 Jul 53


1. COMCRUDESPAC notes with approval the splendid performance of the HELENA during refresher training 14-26 June and 5-17

July made possible by the preparation and enthusiasm of the ship's officers and crew.
/s/ H. G. HOPWOOD
. . H. G. HOPWOOD
Copy to:

COMCRUDIC 3

1. The hard work and cooperation of all hands made the Refresher Training period most successful. Your efforts are appreciated. WELL DONE.

2. At quarters this morning Division Officers publish handout on subject,
"The Importance of an Honorable Discharge." (Helena NOTICE 1910)

3. Conduct training in accordance with Weekly Training schedule for the week 7-12 September.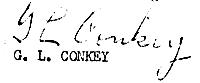 ---
The above "Plan of the Day" has been reproduced as accurately as possible for your viewing pleasure.
DJB