U.S.S. HELENA (CA75)
PLAN OF THE DAY FOR FRIDAY, 2 OCTOBER 1953
| | | | | | | |
| --- | --- | --- | --- | --- | --- | --- |
| DUTY DIVISON - 2 | | DUTY SECTION - 1 | | SUNRISE - 0554 | | SUNSET - 1743 |
GENERAL SITUATION
Underway 0730 for Yokosuka via Area Charlie. Field Day in morning. Lower decks inspection and drills in afternoon.
UNIFORM
LEAVING PORT
Officers & CPO's - Service Dress Khaki

-with hats.

Crew -Undress Whites.

          

AT SEA
Khaki working uniform without
ties.
Dungaree trousers, chambray
shirts and white hats. Foul
weather clothing as necessary.

MOVIE
To be announced.
Carry out IN PORT and AT SEA routine (Rev 9/53) amended as follows:
0545 - Reveille.
0600 - Turn to. Make all preparations for getting underway.

- Mess Gear. Special Sea Detail eat early breakfast.
0630 - Late Bunks.
0700 - Station the Special Sea Detail.
0725 - Officers call.
0800 - Turn to. Commence Field Day completing at 1130. Scrub down weather

-decks. Use sand.
1300 - Captain's Inspection of Lower Decks, Holds, Storerooms and Engineering Spaces, (See Note #3)
1500 - Man overboard drill.
1900 - Night Fire Drill.

NOTES:

1. Carry out training in accordance with Weekly Training Schedule.

2. The following named men report to the Medical Office at 1400 for innoculations.
BLOM, R.F.

RITTER, D.B.

ROBINSON, L.H.

         

CRUZ, E.G.

DAVIS, E.E.

ENS HOUSE
3. Inspection Parties for Captain's Lower Deck Inspection today are as follows:
ZONE

11

         

INSPECTORS

CDR COLLISON
LTJG E.A. MILLER
ENS J.W. TANNER

         

MAA

BANGE, BM1

         

YEOMAN

SELLERS, YNSN
12

            

LCDR J.W.MACAULAY
LTJG R.M. LOCKEY
ENS M.B. BADT

     

SANDERIA, BM3

      

BINFORD, YNSN
13

            

LCDR E.F.BERBERET
LTJG E.A. GUDE
ENS D.W. BORING

       

APPELL, MM3

        

KRAMER, SA
14

            

LCDR E.A. SANFORD
LTJG J.B. CARRUTH
ENS M.B. SCHWALBAUM

   

BROWN, BM3

        

HOFFMAN, SKSN
15

            

LCDR C.A.SHAW
LTJG W.D. HEFFERNAN
ENS G.R. EKMAN

     

BRINKLY, BM3

      

TRUEBLOOD, SN
16

           

LT C.F. TYSON
LTJG R.R. SCHROEDER
ENS D.K. HARRISON

     

HUNNICUTT, GM3

   

FULMER, SN
17

           

LT R.T. RUSTAD
LTJG C.R. FIRTH
ENS G.W. KLEINE

         

CHAMBERLIN, GM3

  

HUBER, SN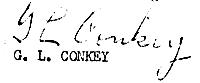 ---
The above "Plan of the Day" has been reproduced as accurately as possible for your viewing pleasure.
DJB