U.S.S. HELENA (CA-75)
PLAN OF THE DAY FOR TUESDAY 20 MAY 1952
| | | | | |
| --- | --- | --- | --- | --- |
| Duty Division - 5 | | Sunrise - 0547 | | Sunset - 1950 |
GENERAL SITUATION
Underway at 0830 to load ammunition in explosive anchorage. Underway at 1130 for operating area. Rendezvous with TG 14.22 at 1430. Expect to conduct sleeve firing in the afternoon, and thereafter, procede to Pearl Harbor.

UNIFORM
INPORT
Officers and CPO's - Kahki working uniform with ties

crew - Undress blue Baker. Dungrees

in accordance with established policy.

                                         



AT SEA
Khaki working uniform
without ties. Dungree
trousers, chambray
shirts, and white hats.
Foul weather clothing
as necessary.
Carry out IN PORT and AT SEA routine modified as follows:
0600 Reveille. Make all preparations for getting underway for Pearl Harbor.
0610 Mess Gear.
0700 All liberty expires on board.
0725 Officer's Call.
0730 Quarters for muster.
0745 Station special sea details and steaming watches.
0815 Quarters for getting underway.

Uniform: Officer's - Servive dress khaki.

crew - Undress blue Baker.
0830 Underway
0915 (about) Anchor in berth B-9, in explosive anchorage.

Prepare to receive ammunition lighters alongside.
0930 Commence loading ammunition.

Outgoing U. S. Mail closes.
1045 Station special sea detail and steaming watches.
1115 (about) Complete loading ammunition.
1125 Mess Gear.
1130 (about) Tugs clear>

Underway for operating area.
1300 General Quarters. conduct checks of all equipment.
1345 Secure from General Quarters. Set condition IV.
1430 Rendevous with Bon Homme Richard and Des. Div 12 less Agerholm.
1440 Air Defense for anti aircraft practice firing.
1500 Commence AA fring at towed sleeve target with 5" and machine gun batteries.
Set condition IV.

Complete AA firing. Secure from Air Defense.

Sweep and damp down weather decks.
Mess Gear.
1915 Eight O'clock reports.
Sunset. Turn on running lights.
Movies on the fantail weather permitting.
2020 Dump nonburnable trash and nongrindable garbage. Pump bilges.
2200 (after movie) Darken ship on signal.

(continued)

NOTES
1. The U. S. Navy and the U.S.S. HELENA will have as their guests for the cruise to Pearl Harbor the following gentleman:

COM ELEVEN:


Mr Glenn Conrad - President CIO Local 506 United Auto Workers, and employed

by Ryan Aircraft Corp, San Diego, California.
Mr. Harry A. Mann - Owner, Chevrolet Agency, Los Angles, California.

Mr. George W. Savage - Associate Editor, San Bernadino SUN TELEGRAM

and manager, Inland Printing Company, San Bernadino, California.

COM TWELVE:


Mr. Thomas T. Tyler - President and General Manager, Prudential Federal

Savings & Loan Assn., Salt Lake City, Utah.

COM THIRTEEN:


Mr. Milton Horsley - Farmer and Republican State Chairman, Idaho,

Soda Springs, Idaho.
It is the desire of all of us to make their trip an interesting and

enjoyable one. If everyone gives their enthusiastic an whole-hearted

cooperation in showing Navy at its best, we cannot fail to succeed.
2. A smoker for all hands will be held on the fantail Saturday night, 24 May.
Entertainment will feature boxing, the flag band, and a talent show. All men
who desire to participate in the show should submit their names to their
division representatives on the Enlisted Recreation Committee. Don't be modest!
If you have talent, use it Saturday night to amuse and amaze your shipmates.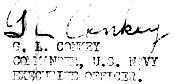 ---
The above "Plan of the Day" has been reproduced as accurately as possible for your viewing pleasure.
DJB