U.S.S. HELENA (CA-75)
PLAN OF THE DAY FOR SATURDAY 12 SEPTEMBER 1953
DUTY DIVISION - 2          DUTY SECTION - 2        SUNRISE -  0615   SUNSET - 1842
GENERAL SITUATION
Inspection as scheduled. Prepare for replenishment.
                   UNIFORM	                         MOVIES
Officers & CPO's - Khaki working uniform	         CREW: "THE SYSTEM"
                   without ties.	                 F. Lovejoy, J. Weldon
            Crew - Dungaree trousers,	                 CPO: "PORT SINISTER"
                   skivvy shirts and	                 J. Warren, L. Roberts
                   White hats. Chambray	                 WARDROOM: "JEOPARDY"
                   shirts optional.	                 B. Stanwyck, K. Donovan 
                                                         Short: "DUCK AMUCK"
Carry out AT SEA routine amended as follows:
0600 - Reveille.
0615 - Turn to. Scrub down weather decks. Clamp down superstructure decks. Sweep down compartments. Empty trash cans.
0625 - Mess Gear.
0715 - Protestant Devotional Services in the Crew's Lounge.
0730 - Muster on stations.
0800 - Turn to. Wipe off exterior paintwork. Upkeep and maintenance work. 0930 - Knock off work.

Department Heads inspection of assigned spaces.
1000 - Holiday routine. Display of Japanese chinaware in First Class Moss.
1100 - Pipe sweepers.
1125 - Mess Gear.
1200 - Band Concert on fantail.
1300 - Pipe sweepers. Holiday Routine.
1315 - Set Condition IAA for sleeve firing.
1330 - Anti-aircraft firing exercise at sleeve target.
1550 - Pipe sweepers.
1710 - Mess Gear.
1830 - Movie in #5 Mess Hall.
1915 - Eight O'clock reports. Movie in #1 Mess Hall.
2000 - Movie in Wardroom. Movie in #5 Mess Hall.
2130 - Catholic Rosary Services in the Crew's Lounge.


NOTES :

1. Remember that today is the day that the Ship's Store will display samples of Japanese chinaware, stemware and yard goods in the First Class :Foss. Hours will be from 1000 to 1600. Orders will be accepted for future delivery to the ship in Yokosuka, packed for export shipment. All orders must be accompanied by full payment in advance. However, if you are financially embarrassed at the moment, write the number, description and quanity of the items you want on a piece of paper and bring it to the display after payday. Samples will also be shown on Sunday 13 September in the First Class Mess from 1300 to 1500.

2. WATER HOURS:

a. At 0600 yesterday morning the ship's tanks were 80% full. By 1030 the tanks only contained 40%. 25,000 gallons of fresh water was used in approxi­mately four and one half hours.
b. In order to consove the supply of fresh water it was again necessary to place water hours into effect. The ship is still using more fresh water than we can distill! It is hoped that the tanks will be filled and water hours removed today. SAVE FRESH WATER AND PHLV,NT WATER HOURS!

3. The following inter-divisional transfer is effective this date:

HARRIS, William C., SN From 5th Division To HOW Division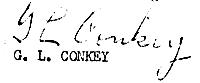 ---
The above "Plan of the Day" has been reproduced as accurately as possible for your viewing pleasure.
DJB