U.S.S. HELENA (CA-75)
PLAN OF THE DAY FOR THURSDAY, 10 APRIL 1952
Duty Division - 1                            Sunrise - 0529           Duty Head of Dept. -
Duty Section - 2                             Sunset - 1822            LCDR LYNCH
                                          GENERAL SITUATION
Steaming in company with TG52.8 in Southern California operating areas. A screen penetration problem and an air defense exercise will be conducted in the morning. Division Tactics may be conducted while enroute to Long Beach. Expect to anchor in outer harbor about 1545.

UNIFORM
                               AT SEA                   ON BOARD           SHORE LEAVE AND LIBERTY
Officer's & CPO's    -   Khaki working uniform    Service Dress      Service Dress Blue
                         without ties.            Blue Baker.        Baker.
             Crew    -   Dungaree trouser, cham-  Undress Blue       Dress Blue Baker
                         bray shirts, with white  Baker.
                         hats.                                       MOVIE
				                                            To be announced.

         O.O.D.                            J.O.O.D.
12-16    ENS WICK               ENS GRAF         GUZMAN, SHC
16-20    ENS PHILLIPS           ENS PATTERSON    MC CONNELL, BMC
20-24    LTJG HAILE'                             LOUIS, GMC
00-04    2ND LT WEHRLE                           GUZMAN, SHC
04-08    ENS WICK               ENS GRAF         MC CONNELL, BMC
08-12    ENS PHILLIPS           ENS PATTERSON    LOUIS, GMC
Carry out AT SEA and IN PORT routine amended as follows:
0529 Sunrise. Light ship.
0600 Reville.
0625 Mess Gear.
0630 Flight Quarters. Prepare to launch the helicopter.
0645 Late Bunks.
0700 Commence screen penetration exercise.
0730 Muster on stations.
0800 Turn to,
0830 Twenty hand standard working party report to LYNCH, SK2, main deck amidships for dry provisions breakout.
1000 Secure from screen penetration exercise.

Recover helicopter.

Air Defense.
1015 Commence air defense exercise for air control, target acquisition, and designation training.
1125 Mess Gear.
1200 Secure from Air Defense.
1230 Brief Holy Week Service in the library

Roman Catholic rosary service in Space Baker.
1245 Designated officers report to the Open Bridge for division tactics.

Meeting of all baseball team candidates in space Baker. Experience is required.
1300 Leave operating area enroute Long Beach.

Division tactics as directed by ComCruDiv 3.

School Call - Conduct classes in accordance with weekly Training Schedule.

Tactical school in Wardroom.

Turn to.

(continued)
On the original Plan of the Day, "continued" meant turn the page over.

1500 Make preparations for entering port.


Station the special sea details and anchoring details.
1545 (About) Anchor in Long Beach outer harbor.
1600 (About) Liberty Call.
1615 (About) Liberty for the 1st and 3rd sections to expire at PICO STREET LANDING

at 0730 Friday, 11 April 1952.
1725 Mess Gear.
1915 Eight O'clock Reports.
2000 Movies on the fantail, weather permitting.

NOTES
1. Mess equipment is still being removed from the Mess Halls in spite of strict


instructions to the contrary. In the past nine months, 1767 cups, 1721 bowls,

1452 spoons. 1256 forks, and 932 knives, representing a total monetary value

of $1673.32 have been expended in the general mess. This is extremely

excessive and must be reduced. The cooperation of all hands is requested in

this matter.
2. All hands are directed not to hang clothing or other articles on fans, lights,

or any other electrical equipment. Master-At-Arms have been directed to con-

fiscate such clothing.
3. CO2 inflation cartridges for Mae-West type life jackets are available for issue

to division officers requiring same. Engineering divisions draw cartridges

from Log Room. All other divisions draw cartridges from First Lieutenant's

Office. These cartridges are for emergency use only and shall not be used for

unauthorized purposes. It is not necessary to test these cartridges - visual

examination when required will determine whether or not the cartridge has been

punctured.
4. The following inter-divisional transfer is effective this date:

  ZAHORCHAK, R.M., SA         FROW: 1st DIV.      TO: S1 DIV.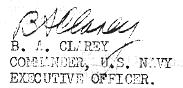 ---
The above "Plan of the Day" has been reproduced as accurately as possible for your viewing pleasure.
DJB