| | | |
| --- | --- | --- |
| | | |
Newspaper Clippings provided by Furnished by Robert A. Plake.
U.S.S. Helena CA-75. 1st Division 1949 - 1951
---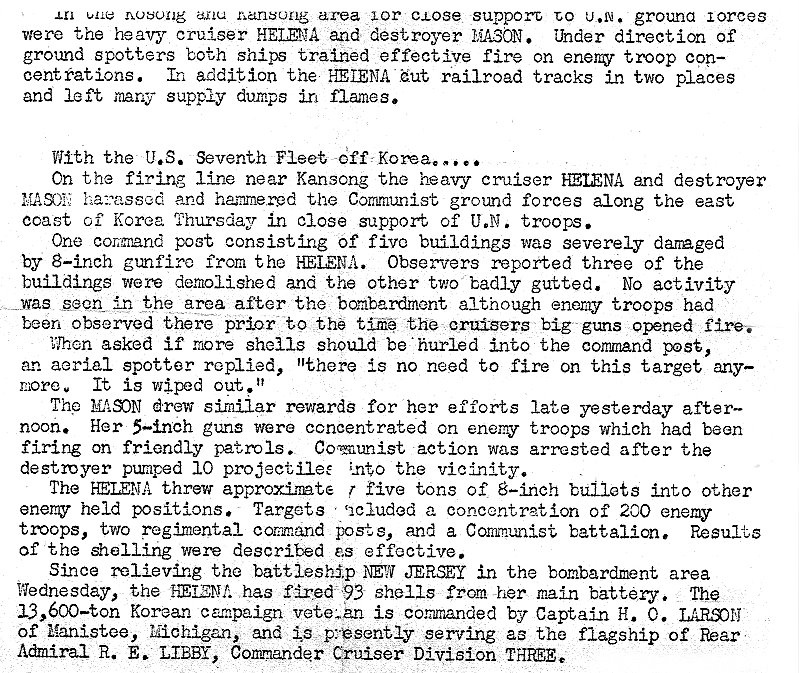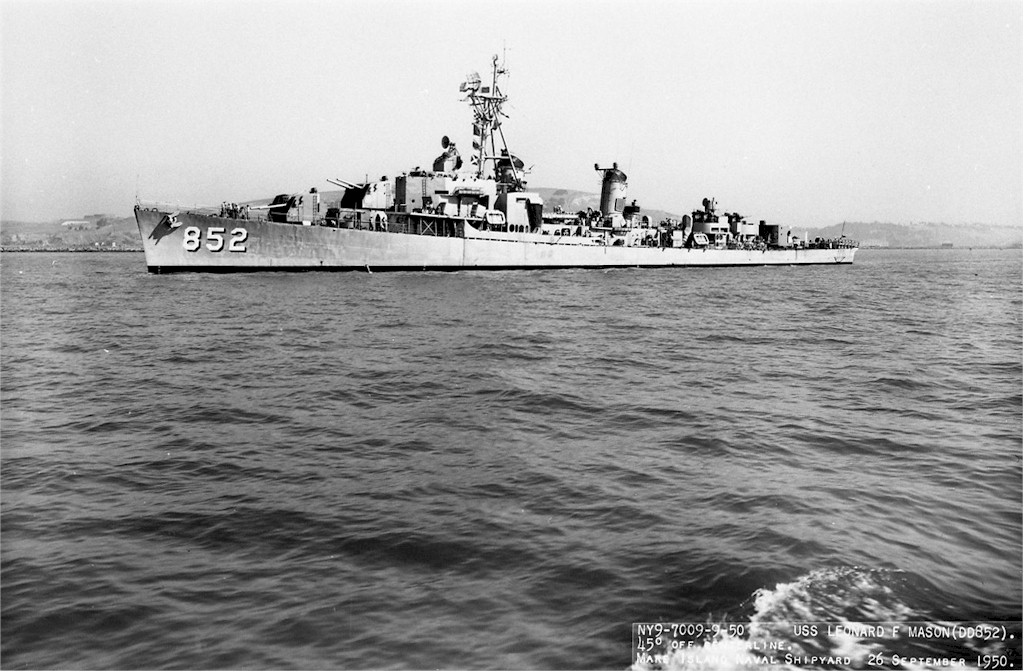 USS Leonard F. Mason (DD-852)

During the early stages of the Korean War, Leonard F. Mason steamed for the Pacific on 13 November 1950
and joined in anti-submarine exercises. On 16 May 1951 she joined Task Force 85 (TF 85) at the siege of Wonsan
to fire in the continuous shore bombardment which inflicted heavy damage on enemy bridges, tunnels, and troop
concentrations. Bombardment was intense, and performed in cycles of 2, 3 and 5 minutes. While anchored in
Wonsan, the North Koreans attempted to board the ship through the anchor chain, but were unsuccessful.
Departing Wonsan on 23 July, she steamed for San Diego, California arriving 8 August 1951.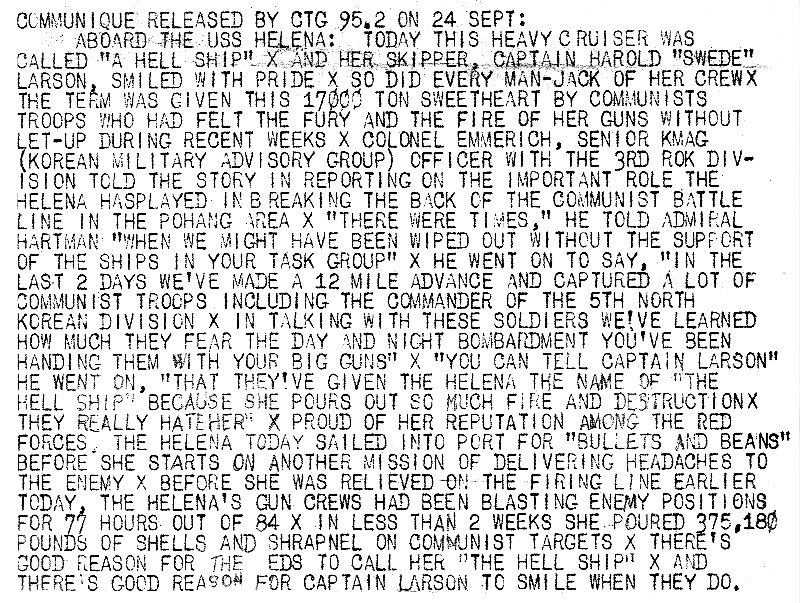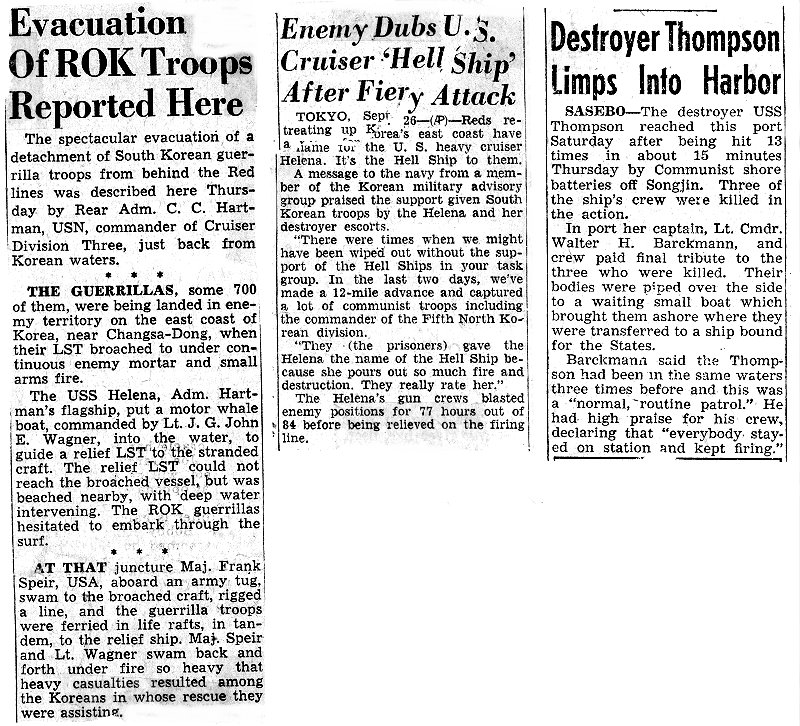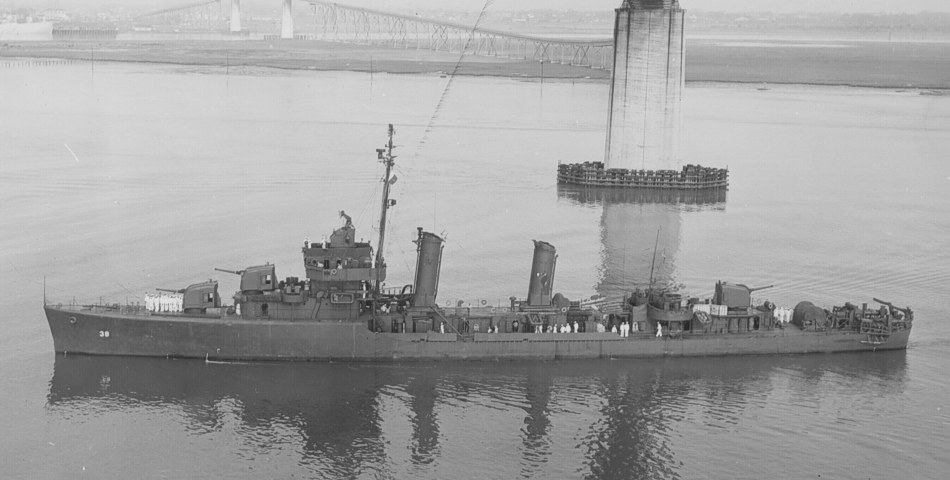 USS Thompson (DD-627)
Later DMS 38
At Chuuron Jang, she herself destroyed two railroad bridges with her pinpoint gunnery.
Also during this period, she took part in "junk-busting" operations up and down the coast,
being on the lookout for suspicious junks used by communist forces for infiltration and
minelaying operations. On one occasion, while underway north of Songjin, she sighted
six North Korean junks in a cove. Once again, as at the Normandy "D-day" landings,
Thompson's gunners opened fire with a vengeance and sank all six communist boats.

After a month of such operations, she returned to Sasebo for upkeep. From
1 April 1951 to 3 November Thompson returned to shell communist defense positions,
supply lines, and troop concentrations. On 14 June, however, it was the enemy's turn to
hit back. Thompson's gunners had just completed the destruction of a railroad bridge
near Songjin when communist shore batteries opened fire, soon straddling the ship.
One shell struck the bridge and knocked out the ship's fire control gear. In retaliation,
Thompson's gunners destroyed one enemy battery and damaged another. With three
dead and three wounded, Thompson retired.
---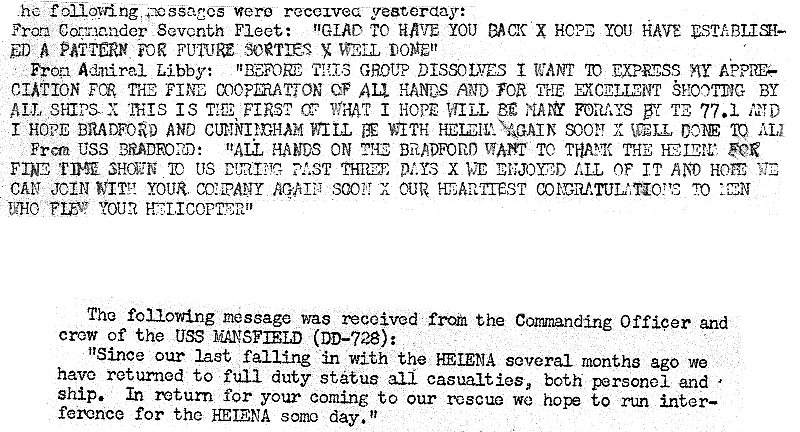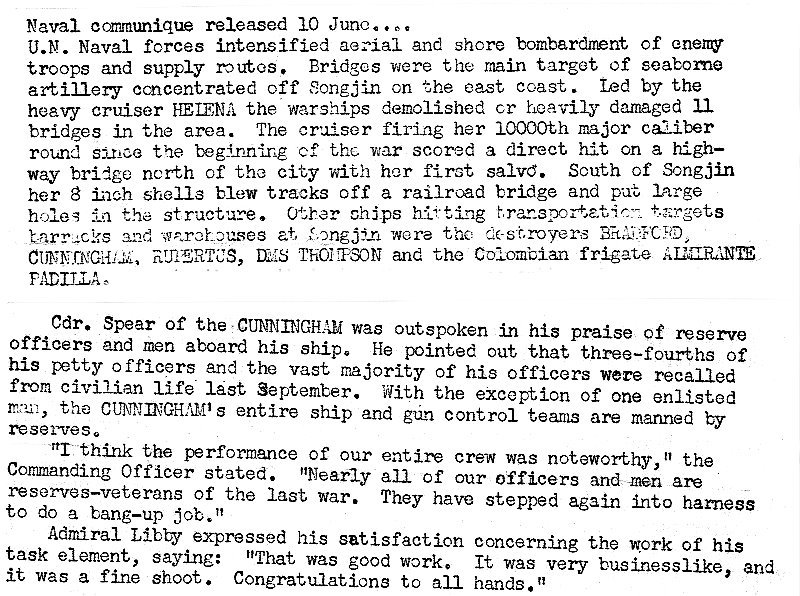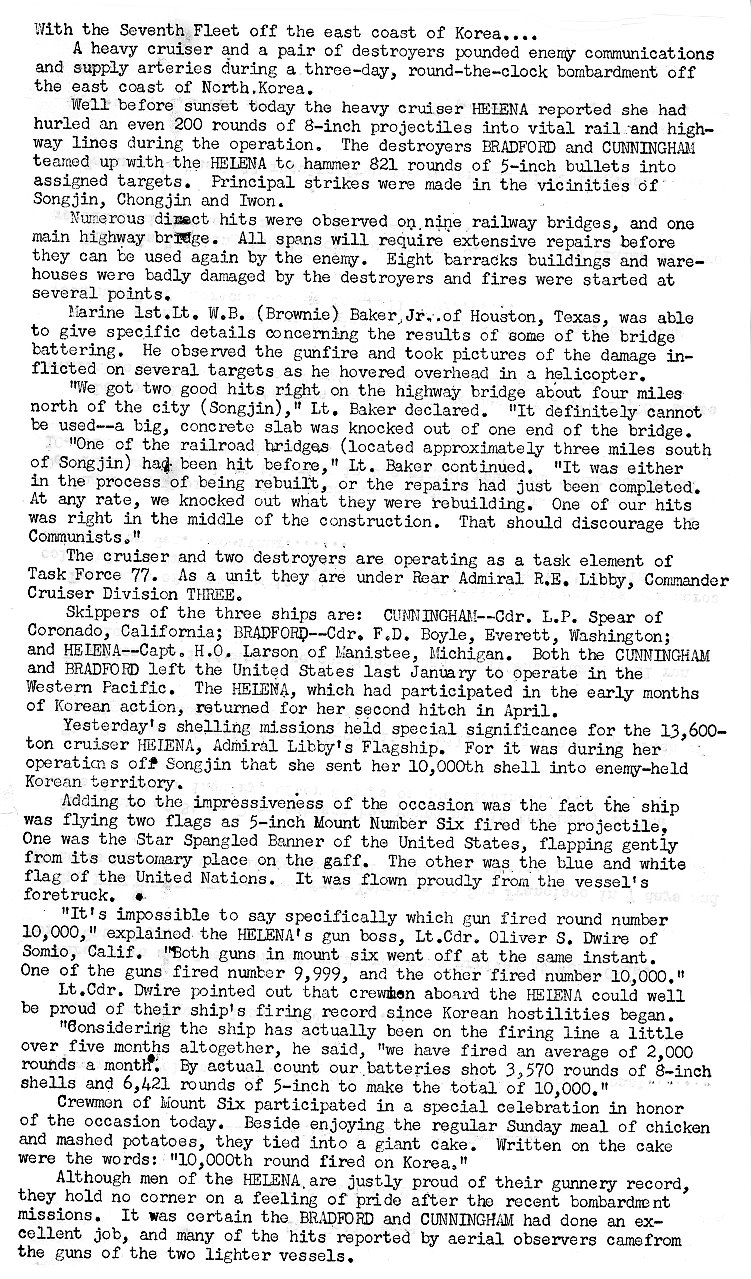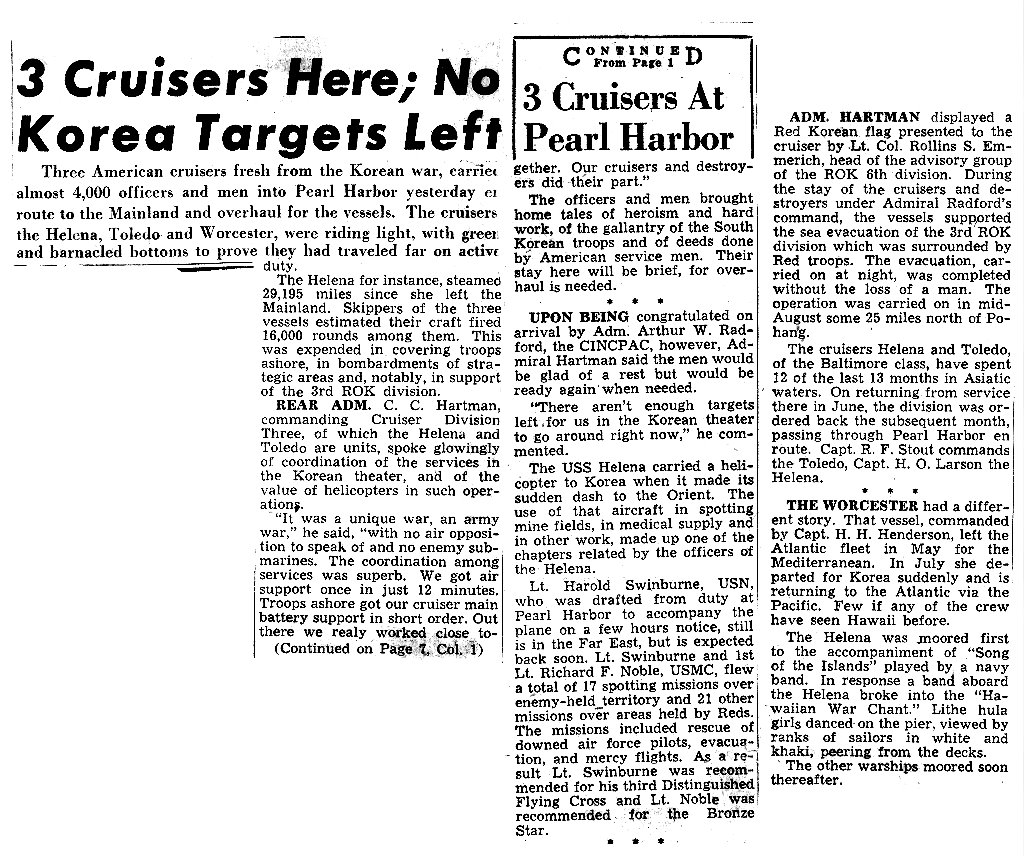 ---
These Clipping were taken from The Honolulu Paper - June 5th, 1950.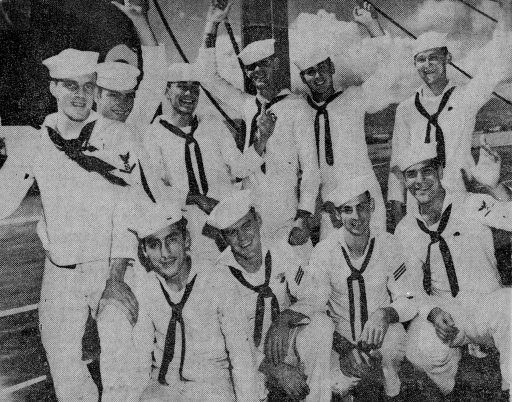 ABOUT TO INSPECT HONOLULU----This group of seaman from the cruiser Helena took off a few
minutes later for a sightseeing tour of the city. Left to right they are, front: Felix Monge, seaman apprentice,
San Antonio, Tex; Pete Sanders, seaman, West Homestead, PA; Floyd H. Bevis, Jr., seaman, Bremerton, Wash.;
Lawrence Doodigian, gunners mate, 3rd class, Providence, R.I.Rear: Leroy Magnussen, boatswain's mate, 3rd class,
Unadilla, N. Y.; Charles Sidener, seaman apprentice, Oxford, Kan: R. S. Smith, seaman apprentice, Springdale, Ark.:
Charles Roberson, seaman , Addyston, O.; George Carver, seaman, Rome, Ga.; William Bleistine, seaman apprentice, Lebannon, PA.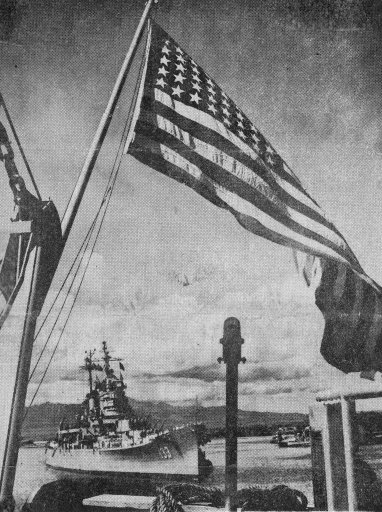 CRUISERS RETURN!
Framed by Old Glory, the cruiser USS Toledo put into Pearl Harbor yesterday after engaging the successful battle for Korea.
Along with her came two other cruisers from the Korean front, the USS Helena and the USS Worcester. All are headed for the Mainland.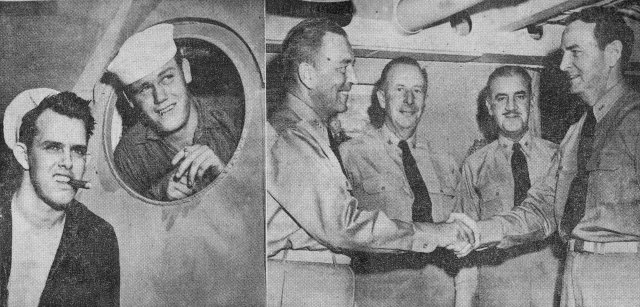 ALMOST HOME!
In the left panel, these sailors of the United States cruiser Helena, which arrived at Pearl Harbor Thursday from Korea, were looking forward to their
first liberty since Japan. Left is Seaman Bill Turpen, Atlanta, Ga. Right is Kenneth L. Johnson, seaman apprentice, of Globe, Ariz. Modern warships don't have
portholes in the hull. This was snapped on an upper deck. In the right panel, Admiral Arthur J. Radford, left, Commander in Chief of the Pacific Fleet,
congratulates Rear Admiral C. C. Hartman, Commander of the Third Cruiser Division, returning to the Mainland, via Hawaii, from Korean waters.
Left, rear, is Capt F. C. Stelter, Jr., Chief of Staff of Admiral Hartman. To right, is Capt. H. C. Larson, Commander of the cruiser Helena, flagship.
The units led by Adm. Hartman saw action against Red Koreans, on the east and west shores of that peninsula and gave close in fire to Korean
and United Nations troops.
---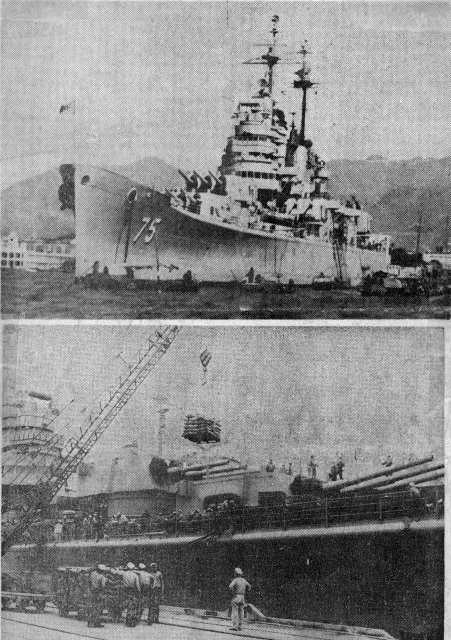 WELL DONE, OLD GIRLS!
Long Beach today welcomes back to United States soil the two gallant cruisers, the U. S. S. Helena, shown at top and the U. S. S Toledo, lower photo.
The two left here July 6 and 19 days later were in action supporting United Nations troops in halting the Red advance in South Korea and paving the
way for the North Korea invasion. The Helena fired 55,000 rounds of 8" ammunition during her battle against the Korean Communists.
| | |
| --- | --- |
| | |
---