USS HELENA ORGANIZATION
582 W. CLARK ST
UPLAND, CA 91784-1966

(909) 949-6559
Bob Kern, President
Matt Slovensky, VP East
Lou Bacca, VP West
Bill Bunker, Past Pres & Sr. advisor

                                      

Dennis Kuhl, Editor &
Administrative Assistant

Dick Renbarger, MAA
October 2005
MESSAGE FROM THE BRIDGE OF THE USS HELENA ORGANIZATION:
I've relieved Bill Bunker at the helm of the USS Helena Organization. He has guided this organization in an outstanding manner for many years, and I hope to do as well as Bill has done during his tour. Thank you, Bill, for your many. many years of excellent service to all of us of the USS Helena.
I have some well-qualified crewmembers to assist me in guiding the Helena Organization on a successful and happy voyage in the coming years. Bob Kern.
LETTER FROM BILL BUNKER
Sending along copy for the newsletter. Talked with Bob Kern yesterday and suppose to get with him on 10/1 to turn over all files, etc. He will have to get printing done for dues notices etc. I appreciate all you have done in the past for the Helena Organization.
NOTE FROM EDITOR . . . . Bob Kern has asked for me to serve as his editor for a few more ages. I know that Bill has been a great leader always helping shipmates. I hope that we see big wheel president Bill for the next reunions.
NOTE FOR NEWSLETTER:
Captain Bruce Beam brought a copy of a new book called "America's First Frogman", the Draper Kauffman's story published by the Naval Institute press. You will find this book very interesting reading. Captain Draper Kauffman commanded the USS Helena CA 75 for a couple of years. He served with the French Ambulance Corps, The British Navy and U.S Navy and was one of the first bomb disposal groups in England before the U.S. entered the war.
Change of address:
M. Keith "Red" Williams ACOM, USN (ret) to assisted living complex. Will be back on computer soon. (Web page mgr comment: 'Red's" address and email address not published)
Page 1
---
DECEASED SHIPMATES:
Frank Prazan
Billy Grogan
William Schaper
Lawrence Frederisson
CL50
CL50
CL50
CL50

           

Russell Reynolds
Roy Williams
Milt Hardy
W. Ken Humphreys
CA75
CA75
CA75
CA75
NEW LIFE MEMBERS:
Betty Brady
Josephine Cinq-Mars
Terri Wenner
James Watson
Delores Point
Gert Lowry
CL50
CL50
CL50
CL50
CL50
CL50

           

Charles Armstrong
James McNamee
Alfred Martin
CA75
CA75
CA75
Life membership is for #100. This includes a LIFE CERTIFICATE for framing.
NOTICE FROM BILL BUNKER:
CHANGE OF ADDRESS: To protect individual privacy, addresses, telephone numbers and email addresses are not included.
To obtain this information, please contact our president or secretary.
Aurora Comacho
Ray V. Hart
Ronald D. Schmidt
Robert Tobey

               

Stanley R. Davey
Peter R. Rawlins
Regis M. Graden
C. Victor Cooper

               

Alton J. Hill
Robert Axley
Reuben Landrum
Betty Sexon
REMEMBER THAT YOU SHOULD CALL ONE OF YOUR SHIPMATES.
Page 2
---
NEW MEMBERS:
Abernathy, Jan (Margaret), RMCS, USN (RET)
CA 75 OR RM2 60-63

Costello, Michael (Carol)
CA 75 W GSSN 7/59-7/61
Retired teamster, interested in back packing
fly fishing and active member classical guitar

Neese, Samuel G (Carol)
CA 75 F Div YN3 6/52-1/54
10 mos USS Toledo w/mil sealift comm.
Merchant marine 63-91 retired

Rutkowski, Edward L. (Joanne)
CA 75 E EM2 1/52-9/55

Brown, Charles D.
CA 75 COMBATCRUPAC S1c 2/47-6/48
attached ADM staff as Aerographer

                    

Cinq-Mars, Josephine (niece of Luke O'Connor)
Life Member for CL 50

Krist, Donald M.
CA 75 CR RM2 7/56-12/59

Ritter, Rodney L.
CA 75 B BT2 2/58-5/62
3 children 8 grandchildren, retired lumber bus

Shaw, Martin

Rowan, Beth (daughter of George F. Rowan)
CL 50 Rowan unknown till July 1943
SHIP'S STORE:
Blue baseball cap with silhouette ship (CL50 or CA75):
Supply of large CA75 jacket patch "Proud and Fearless"
USS Helena Organization decal
USS Helena license plate frames 1 for $10.00....2 each for
CA75 photo pix of ship
$15.00
15.00
2.00
15.00
15.00
Order Ship's stores items from Lou Bacca at 6822 Silverbeach Cir., Huntington Beach, CA 92648.
Make checks payable to USS Helena Organization.
Page 3
---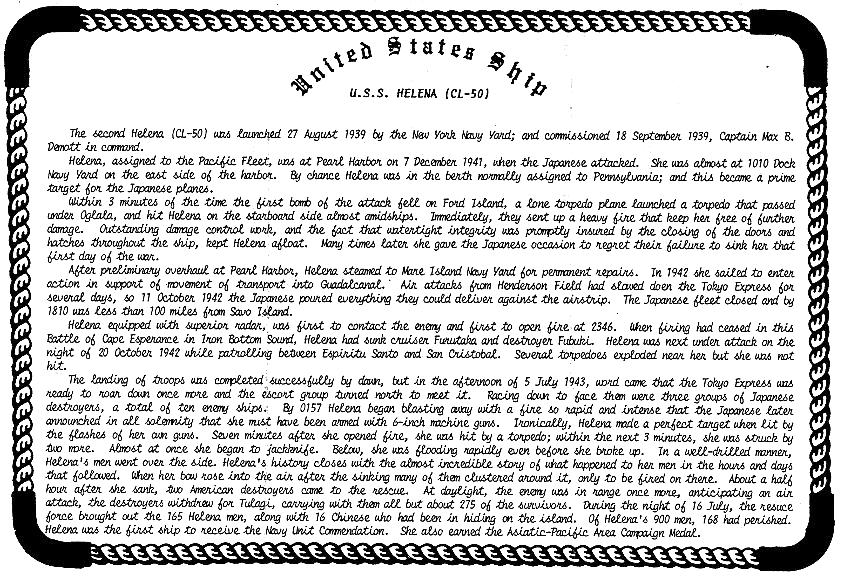 Page 4
---
LETTER FROM BETH ROWAN:
I am the daughter of a man who served on the Helena in WWII, George Rowan, BM1. We are not sure when he joined the ship but my mother believes that he saw her commissioned in Brooklyn. We do know that he was aboard her during the attack on Pearl Harbor until she was sunk in the Kula Gulf. We believe he was one of the survivors picked up from either New Georgia or Vella Lavella.
My father continued serving through the remainder of the war and also served in Korea during that conflict. He retired in 1963 after 24 years in the Navy. My father passed away in 1981 at the age of 59 from cancer.
My brothers and I were in our early 20s when my father died. There was much about him that we did not know. I guess we were too young and immature to ask him much about his life "before us". Little did we know that our time with him would be so limited. Now, many years later, we are seeking to put some unknown pieces of his life together.
Any information that someone may have about his time aboard the Helena would be so appreciated. We would love to speak to someone that may have know him and served with him during those years. We would love information or anecdote, good or bad. Thank you, Beth Rowan. (Address and phone number omitted to preserve privacy).
WHY WE CALL A SHIP SHE:
A salty retired U.S. Navy flag officer shuns the current trend toward political correctness. Ships are referred to as "she" because men love them, but this encompasses far more than just that. Man-o'-war or merchantman, there can be a great deal of bustle about her as well as a gang of men on deck, particularly if she is slim-waisted, well-stacked, and has an inviting superstructure. It is not so much her initial cost as it is her upkeep that makes you wonder where you founder.
She is greatly admired when freshly painted and all decked out to emphasize her cardinal points. If an aircraft carrier, she will look in a mirror when about to be arrested, and will wave you off if she feels you are sinking too low or a little too high, day or night. She will not hangar around with duds, but will light you off and launch you into the wild blue yonder when you muster a full head of steam.
Even a submarine reveals her topsides returning to port, heads straight for the buoys, knows her pier, and gets her breast-lines out promptly if she is single-screwed. On departure, no ship leaves port asleep, she always leaves awake. She may not mind her helm or answer to the old man when the going gets rough, and can be expected to kick up her heels on a family squall. A ship costs a lot to dress, sometimes blows a bit of smoke, and requires periodic overhauls to extend her useful life.
Some have a cute fantail, others are heavy in the stern, but all have double-bottoms which demand attention. When meeting head-on, sound a recognition signal; whistle! If she does not answer up, come about and start laying alongside, but watch to see if her ship is slowing . . . perhaps her slip is showing? Then proceed with caution until danger of collision is over and you can fathom how much latitude she will allow.
If she does not remain on an even keel, let things ride, feel your way, and do not cross the line until you determine weather the "do" point is right for a prolonged blast. Get the feel of the helm, stay on the right tact, keep her so, and she will pay off handsomely. If she is in the roaring forties, however, you may be in the dangerous semi-circle, so do not expect much "luff," especially under bare poles. She may think you are not under command or control and shove off.
If she edges aweigh, keep her steady as she goes, but do not sink into the doldrums. Just remember that "to furnish a ship requireth much trouble, but to furnish a woman the cost is double! "To the women who now help us "man" our ships, my apologies for the foregoing. Only the opening phrase presents my true feelings. After all, a ship's bell(e) will always remain her most prized possession, and every good ship has a heart, just like yours.
A trick at the wheel, like you, would have been welcome aboard when I was on "she" duty for 40 years. May God bless you all, sweetheart!
This is by Rear Admiral Francis D. Foley, U. S. Navy (retired). Published in Navy History, Dec 1998
Page 5
---
FROM SUE TINDER:
Please add information about my uncle. His name was Nathan Tinder from Tennessee. Vic Brelje is trying to help Sue Tinder. Vic attended the Helena Reunion in Las Vegas and the Dallas reunion, sitting with one of the persons at a table. He talked with a survivor of that ship, USS Helena (CL50). He was in his 80s and really knew a lot. I don't remember his face real well, but can inquire at the reunion of there are any there for that ship, any who will remember Sue's uncle. I am not sure if they had cruise books then, but Dave Brouchoud may know. (I do not think there were cruise books during WWII DJB) Shipmates please send email to (omitted for privacy) to provide information about her uncle. Thanks guys.
CRUISE BOOKS:
Hey guys, Dave Brouchoud is looking for some cruise books for the many years of the CA75. If any of you have some books, contact Dave with email brouchou@execpc.com so he can add them to the Helena library of his. (For details on which books I am looking or click here.)
LETTER FROM HARRY CONSTANTINOS:
After reading the last newsletter with the letter from Neal Hammon, I had to write this letter. In response to his comment re: mistakes in the drawings of the Helena. The Helena had a catapult and a seaplane when she was commissioned in September of 1845. She carried the seaplane all through shakedown cruises. Unfortunately the plane was exposed to the elements and it did not take much of a storm to render the plane unflyable. I believe the plane was removed for repairs before her world cruise. The catapult and davit mechanism were removed at some later date. I am writing this letter while in Florida and believe that I have a picture of the Helena with the plane on the catapult in my home in South Carolina. I can send to you if you wish. Keep up the good work, I look forward to your newsletters. (Thanks Harry. Any pictures available should be sent to Dave Brouchoud as he will put them in his web site, named Helena, for all to see). (From Dave---to see a picture already on our web page, of the Helena's sea plane click here.
---------------------------------------------------------------------------------------------TEAR OFF/PRINTABLE--------------------------------------------------------------------
2007 USS HELENA ORGANIZATION REUNION

LOCATION BALLOT
CITY______________________________________________________________________

NAME_____________________________________________________________________

Send in your ballot to USS Helena Organization, 582 W. Clark St., Upland, CA 91784-1966

Page 6 (last page)