Connections
During the Pearl Harbor 75th Commemoration Tour


The First Connection

Sometime during the day after Thanksgiving, I called a man from the USS Helena that I had
never met in person. Our only contact had been by email back in 2013 when he wrote that
he did not know my dad on the ship. I told Ski that I would be in Honolulu to attend the
ceremonies and to honor all the men of the USS Helena.

Turned out that Ski was flying to Honolulu on 3 Dec . He appears to have been the only
Pearl Harbor Survivor on that flight out of Sacramento.

My schedule and his had very few moments when we could get together. Fortunately, his
hotel was across the street from the Moana Surfrider. We managed to squeeeze in two one
hour chats. Ski is fun to be around and told me of his experiences on the Helena at both
Pearl Harbor and Kula Gulf.


The Second Connection

Everyone in the tour conducted by The National WWII Museum arrived in Honolulu Thursday
1 Dec 2016. That evening we had a welcome banquet at the Moana Surfrider and sitting next
to me was one of the historians who would be with us the entire week.

My initial chat with him was like dancing around, something that tends to bother me. So just told
him flat out why I was on the tour and my interest in Pearl Harbor in general. This historian went
to another table, spoke with someone he knew, came back, and brought me to Mike.

Mike will head to the St Louis NARA facility in February as part of his regular routine and attempt
to dig up more information on my dad.


The Third Connection

Susan and her friend Robin were sitting across the table from me at the welcome banquet. I could
hear Susan telling someone that her father had been at Hickam Field on 7 December 1941 and
was flying B-17s with the 50th Recon Squadron. Later, she showed me some pictures on her phone
and I noted Walker AAF and 772nd Bomb Squadron. From this brief conversation, my friends in the
B-29 community have reached out to help Susan gather information about her father that she has
not seen before.

But that is not all. One of our tour visits has to be in the category of exclusive because The National
WWII Museum was able to arrange a tour of the DPAA facility located on Hickam Field. Following
this wonderful insight of what those men and women are doing, we gathered to hear a short speech
by the General in charge of the facility. Afterwards, it just so happened that Susan began a
conversation with one of the men.

Susan learned that his great-great uncle had been on the Helena at both Pearl Harbor and Kula Gulf.
She hurried into the bus and told me to come out quick. I briefly spoke with this man and we
exchanged contact information. He now has a few Muster Rolls of the USS Helena that he
had not seen before.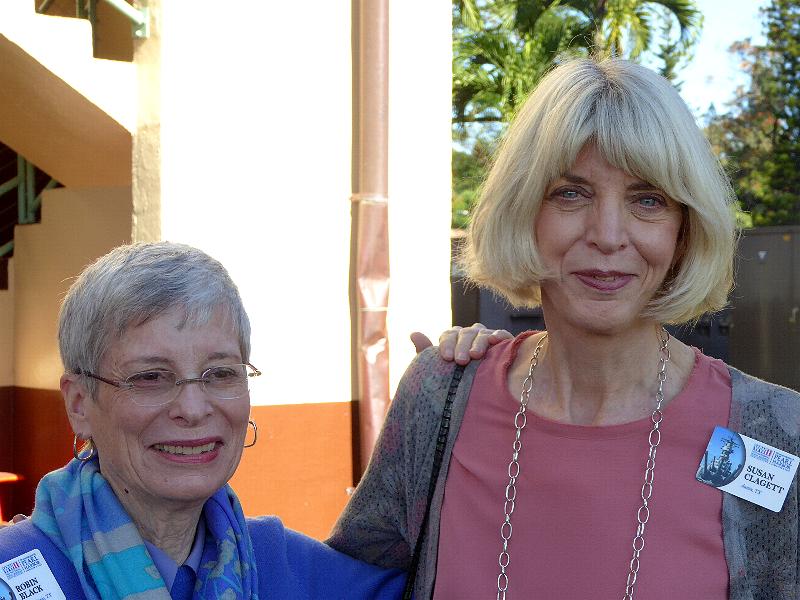 Robin and Susan
The Fourth Connection
Our first full day of the tour was a symposium with the historians providing excellent presentations.
How I dream of having their intelligence and the ability they have of conveying their thoughts in a
clear and concise manner.
The last part of the symposium was an interview conducted by Daniel Martinez of the NPS with two
people who were living near Pearl Harbor on 7 Dec 1941. They were Jimmy and Dorinda.
Dorinda mentioned her cousin George Kahanu, a civilian, being at work near the 1010 Dock that day.
This is where the Helena was berthed, inside the Ogalala, and was hit by a torpedo that killed 33 men.
Dorinda was 6 years old the day of the attack and her story can be found in the book she wrote titled
Pearl Harbor Child.