Posted 1 September 2009.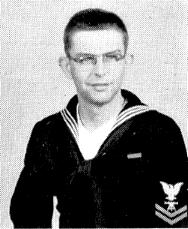 Picture copied from the 1959-1960 USS Helena CA-75, Cruise Book.

Deland C. Flodman SCPO, FTC, USS Helena CA-75, F Division, 1957 - 1961

Dear Sirs,

My Father SCPO, FTC, Deland C Flodman served on the Helena 59'-60'.

He passed away 8-28-09 and I would like his name posted in your memorium.

Please feel free to contact me at jcfsdca@yahoo.com .

Thank you all for your service to our great country. Joseph C Flodman.

Deland "Del" Flodman

July 3, 1936 - August 28, 2009

Del was born in Polk, NE to Carroll and Virginia Flodman.
He enlisted in the US Navy in 1955 and served in Great Lakes, IL, San Diego, CA and on ships in the Pacific Fleet.
After almost 20 years of service he retired in 1974. Del retired from the civilian work force in 1991 and became and enthusiastic volunteer.

He is survived by his wife of 47 years, Alice, his five children; Libby (Eric) Williams, Mary (Louie) Loeza, Eileen (Dave) Heller, Kathy (John) Pierson
and his son, Joe, five grandchildren Kelli, Alicia, Felix, John and Anna, and his siblings LaRita Sorenson, Donna Hafer, Merton, Patty Grogan and Robin.

"Lord, US Navy Chief Flodman arriving!"
To hear "Taps", please click HERE!