Faith and Religion
aboard our ship
---
Family Sunday

Throught the year we had a faith in God, but this was emphasized on Family Sunday, 16 April.
Catholic Mass was celebrated on the fantail, and Chaplain Crabtree held his final service on the forecastle
after which he turned over his duties to Chaplain Zimbelman.
Following the services a brunch was served for all hands and their guests in the general mess.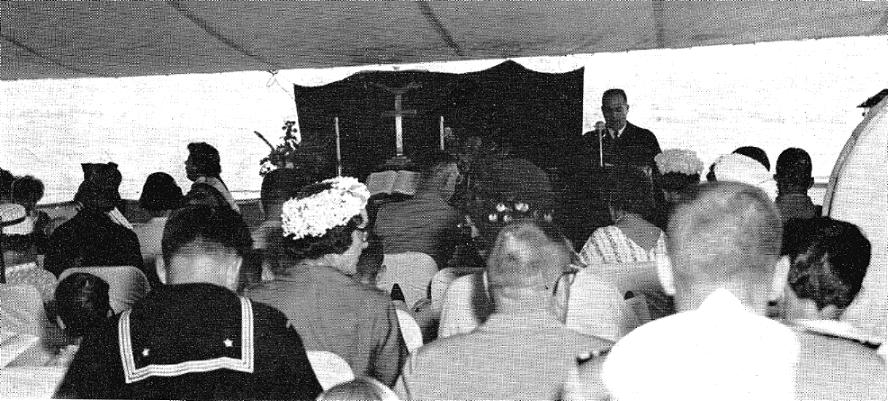 Above from the Helena 1960-1961 Cruise Book
---

LCDR Roger L. Crabtree
Chaplain

From the 1958-1959 Cruise Book


Above from the Helena 1959-1960 Cruise Book
---
RELIGIOUS

LIFE

Religious life aboard HELENA is a most
important facet of our daily lives. Each day begins
with a morning prayer offered by Chaplain Keaney
while each man aboard bows his head in reverence
to the Almighty. Daily and Sunday Mass for Catholic
personnel are well-attended, as are Sunday morning
Protestant services given by Lay Leader ENS David
Swanson or by various visiting Protestant chaplains.
Services for the Church of Latter-Day Saints are
presided over by WO2 Robert Livezey.
Spiritual and moral guidance is an essential part
of the success of our living together and successfully
accomplishing our mission in the defense of our
country. In our knowledge of a greater-than-
earthly force lies the faith and confidence we so
vitally need.




Protestants join in song during service by visiting Chaplain


LCDR Kevin J. Keaney
Chaplian





Fr. Keaney serves Sunday mass.
Above from the Helena 1958-1959 Cruise Book
---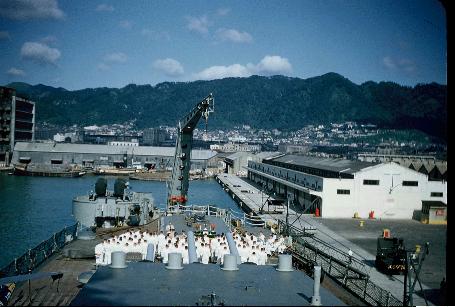 The crew attends church service on the fan tail.
Kobe, Japan. September 1953
---
It's natural that a part of our daily life is reserved for worship and devotions.
The Chaplain leads us in daily prayers and on Sundays services are conducted for all faiths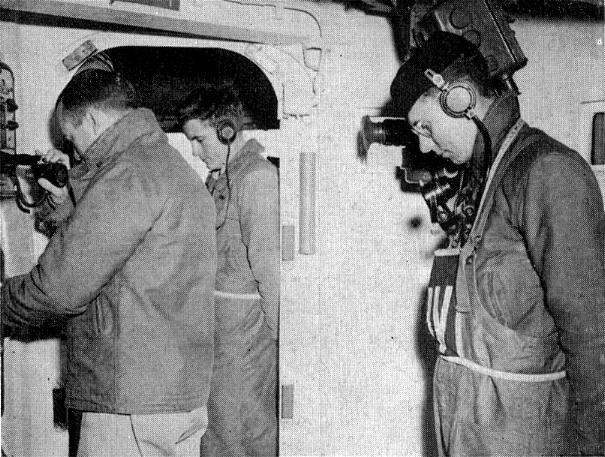 Above from the Helena 1952 Crew's Book
---
Thanksgiving Day 1951 was a day spent in prayer on board Helena . . . because there was much for which to be thankful.

Above from the Helena 1951 Crew's Book
---