The BT1 Al Coil Collection
Page 1
All material on these two pages donated by Linda Coil Suchy, Al's Daughter.
Linda's email is candocan8@yahoo.com
---

Al Coil served on the USS Helena CA-75 in Baker Division during the 1950s.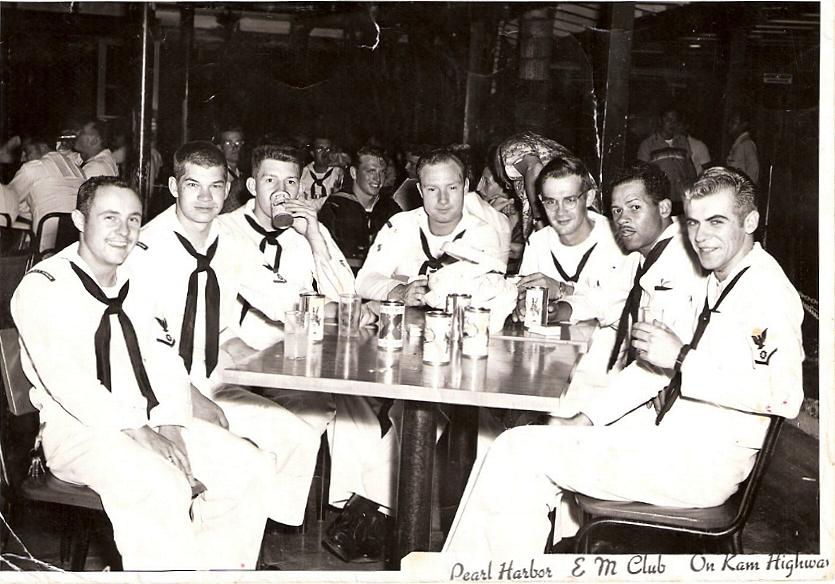 Al is in the center of this picture. (No date or names of the other sailors).
Al Coil was born on 4 March of 1931. In 1948, at age 16, he joined the Navy.
He served on the USS Helena CA-75 in "Baker" Division from 1949 to 1955.
Then the USS Stembel DD 644 from 1955 to 1958.
Then the USS John W. Thomason DD 760 until May of 1959.

He died on May 13, 1959 while scuba diving at Corona Del Mar, California.

He is buried at Point Loma, Rosecrans National Cemetery, along with his wife who died a few years later.
To visit Al's listing at the cemetery, please click HERE!







Two of my most favorite photos.
I remember the day they were taken.
Dad had just got home in March 1959, from overseas.
I am wearing my Christmas dress as we had Christmas in March.
He died two months later in May. I cherish these photos.
In the second one we are dancing in the garage,
I think it was an Elvis song.

Al Coil
Unknown date and place.


Undated clipping