The USS Helena CA-75 "Art" Page
---
Added on 15 July 2018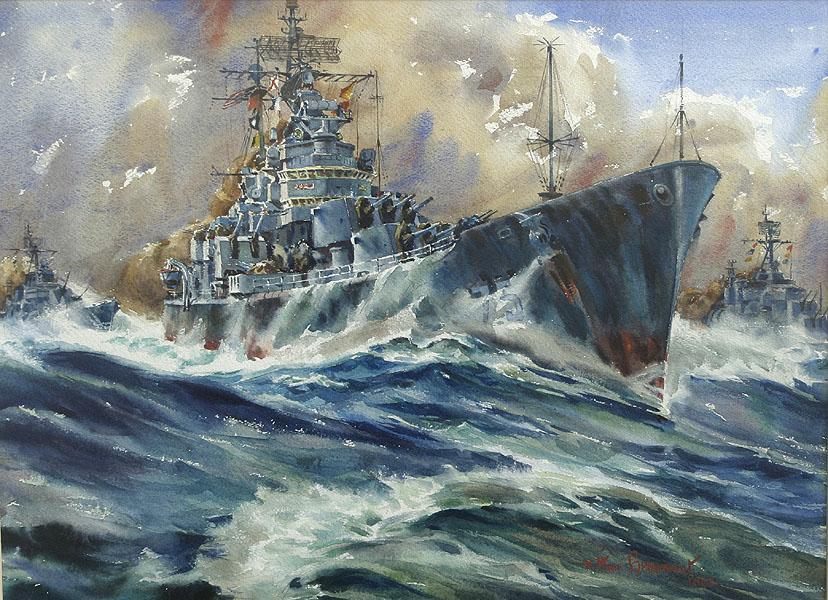 Picture provided by PN3 Tony Gomez
USS Helena CA-75. 1959 - 1962. X Divison
---
Added on 18 November 2012

Both images created and donated by John Galla, Sr. USS Des Moines CA-134.
| | |
| --- | --- |
| Full moon | Low pass |
---
Posted on 3 May 2009

The black and white sketch that follows was found on eBay and donated by Dave Brouchoud.

This is a black and white ink sketch/drawing of the USS Helena CA-75 by the preferred Military ship artist, ARTHUR BEAUMONT.
Titled..."Homeward Bound Pennant" "U.S.S. Helena". Signed by the artist, "Arthur Beaumont 1947".
The paper measures 9" x14 1/2". The paper is ordinary sketch pad paper. It has a cream/off white pigment.
The sketch/drawing measures 8 1/2" x 12 3/4" (including title & signature line).
Arthur Beaumont was commissioned by the military to do paintings/drawings of ships.
This drawing is *almost* an exact *reverse* duplicate of his famous painting of the U.S.S Helena titled..."Homeland Bound" which is dated 1949.
There are a few differences which suggests that this was his initial sketch of the famous painting.
The Helena left the Asian ports on 3/22/1947 with Arthur Beaumont "hitching" a ride home on the famous vessel after an extended stay in the Orient.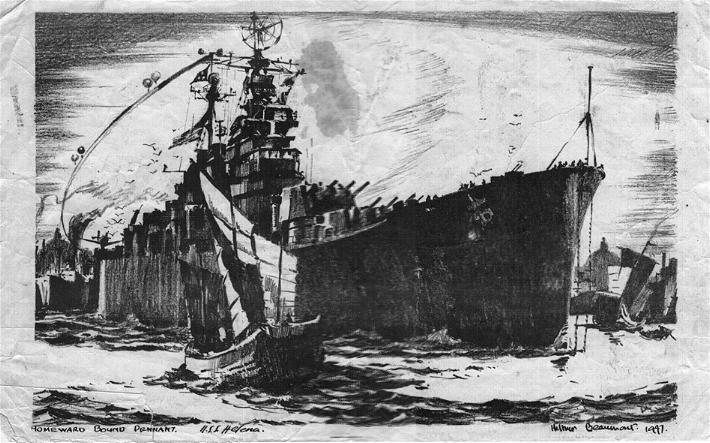 The color painting was posted to our page on 10 September 2007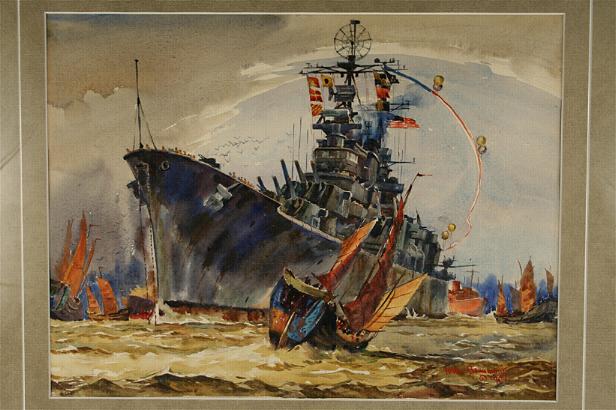 'The Smelly Yellow Whang-Po; USS Helena with Homeland Bound Pennant' by Arthur Beaumont.
Dated 1948, along with clipped note from original backing 'Enroute Shanghai-Guam'.
Permission to use this image granted by Bob Grant of Thomaston Place Auction Galleries.
---
Art furnished by John Galla SR. USS Des Moines CA-134. 1948 - 1949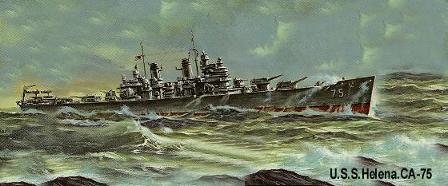 Model Box Art
| | |
| --- | --- |
| Sailing past a small island | Headed out to sea |
| | |
| --- | --- |
| Dawn | Smooth Seas |
| | |
| --- | --- |
| High speed and heavy combat | Combat Colors |
| | |
| --- | --- |
| Strong Seas | CA-75 out of retirement? |
---