The USS Helena CA-75 proudly presents it's "E" Awards and Honors
HONORS AND AWARDS KEPT
OUR MORALE HIGH ALL
THROUGH THE YEAR.
INDIVIDUAL ACHIEVEMENTS
WERE RECOGNIZED AT ALL-HANDS
CONVOCATIONS ON THE FANTAIL,
AND IN AUGUST, THE PRIDE OF
EVERY HELENAMAN REACHED A
NEW HIGH WITH THE PRESENTA-
TION OF THE BATTLE EFFICIENCY
"E" AWARD AS THE BEST CRUISER
IN THE PACIFIC FLEET. CAPTAIN
JOHNSON, IN ACCEPTING THE
PLAQUE FROM RADM LOWRANCE,
NOTED THAT THIS COVETED
AWARD HAD COME TO HELENA
ONLY THROUGH THE EFFORTS OF
EVERY MAN ABOARD.
Information and pictures scanned from the Helena 1959 - 1960 Cruise Book
---
Unlike the "E" Awards on display topside, most of us did not view this award, painted in the working
area of "M" Division.

Picture copied from the USS Helena CA-75 1958-1959 Cruise Book.
That is one huge "E" Award being painted
on the after stack! Must be at least 4 feet high!
Picture copied from the 1958 - 1959 USS Helena CA-75 Cruise Book.

ENGINEERING

Warren R. Peverill's Dress Blue Jumper.
---
The following information and pictures copied from the USS Helena CA-75 1960-1961 Cruise Book.
Provided by Warren R. Peverill "A" Division ENFN 1959 - 1962
In early August we learned that we had won our second consecutive E. Captain Kauffman himself put on the finishing touches, but he was in Washington with the other recently selected Rear Admirals when Admiral Keith came to present the award to the ship.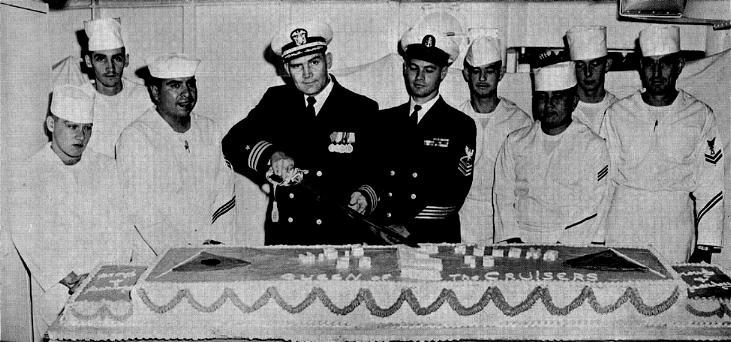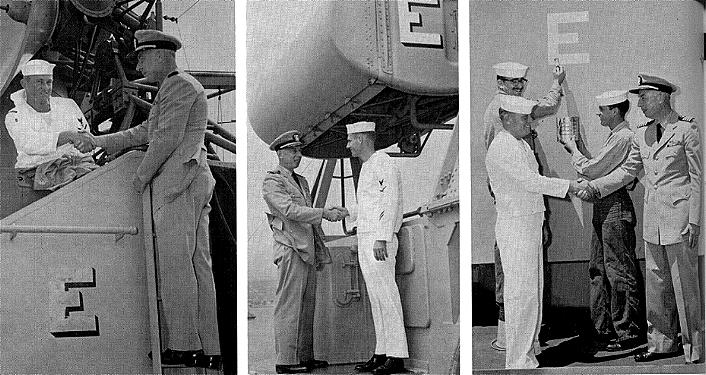 E's, E's, and More E's
In spite of a late start and a tough schedule in which to do their competitive exercises, the men of HELENA acquitted themselves in a highly respectable manner by capturing the Engineering E and eight Gunnery awards. The highlight was achieved by director 51 which won a gold E signifying five consecutive years of excellence. Other Gunnery E's were awarded to director 54, spot I, turret III, and mounts 52, 54, 55 and 56. The engineers, who were handicapped by long in-port periods that cut into fuel and water consumption scores, made up for this in their emergency and damage control drills with tallies high enough to enable them to paint the red E on the after stack.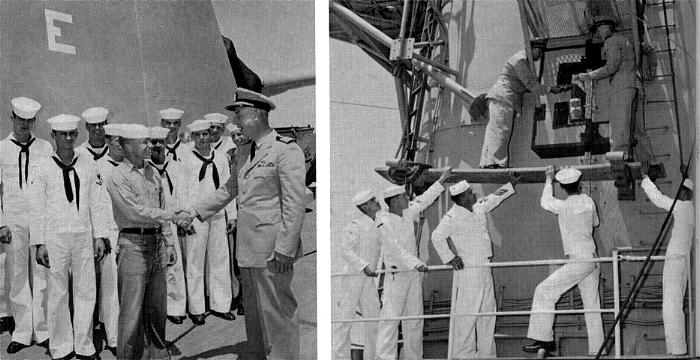 Pride in their level, officer's motor boat and sharp shooting mounts
is the mark of the men of FOURTH DIVISION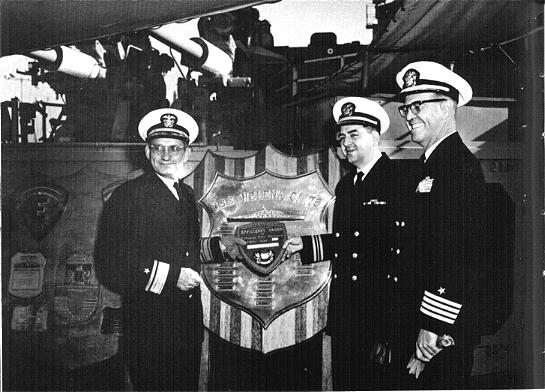 And Still Another E

In mid-December Rear Admiral Kleber L. Masterson, COMCRUDIVONE, came aboard and presented the Supply Department with their second consecutive E. LCDR Hein accepted the award in his position as Supply Officer although he was careful to remark that the credit belonged to CDR Roland W. Breault who held the position for the period of the two awards.